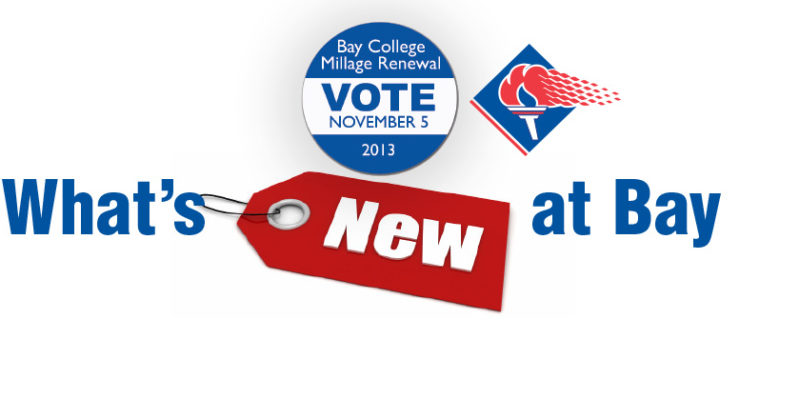 Bay College is 50 Years Old
Happy Birthday Bay College! Bay has been celebrating 50 years of success for the past several months. Thank you to all who attended the Bay College Founders Reception and Bay Birthday Bash in 2012. We will be rapping up our anniversary celebration year this fall with a Golden Gala event in support of student success. It will be an evening of networking, food, and fun, concluding with a student musical performance in the Besse Center. We invite you to sponsor and join us for the event. Please purchase tickets early as seats are limited by the theatre size. Bay College's renewal millage proposal will follow on the November 5th ballot. We encourage you to support your community college at the polls.
Physics and Engineering at Bay College
Bay College offers calculus-based General Physics I and II for physics, chemistry, computer science and engineering majors and trigonometry-based General Physics I and II for biology/pre-medical majors. In addition, students attending Bay College that plan to major in engineering can get a head-start on their program while at Bay by taking Statics and Dynamics. Those students who need a science class to fulfill their Education-program requirements, can take General Astronomy or Conceptual Physics.
A Van de Graff Generator is an electrostatic generator which deposits electric charge (electrons) on the thin metal spherical shell of the device, generating very high voltages in the region around it. Any person in contact with the device will have electric charge deposited on them (because we are good conductors) so that they are at the same voltage as the device. Because the electrons on the person repel, they will move as far away from each other as possible, making the hair of the person stand up! The sensation of having electric charge all over your body is certainly weird, as anyone who has tried it can confirm. Learn more about electric charge by taking Physics at Bay College.
Job Fair Offers
Employer & Student Engagement
The number one reason people make the decision to attend college is to gain valuable skills in preparation of landing a worthwhile career. Bay College trains students both in the classroom with the appropriate skills, and outside of the classroom through resume/cover letter writing, as well as teaching job search and networking skills needed to enter the world of work.
Recently Bay College hosted a Job Fair to put employers and students in touch with each other. Thirty-four employers participated in the Job Fair and filled the Bay Conference rooms, coming from the local and regional community and as far away as Lansing, MI and Green Bay, WI.  Additional workshop opportunities were offered for students the day of the Job Fair. These included "Manager Trainee Programs", sponsored by Tradehome Shoes and Family Video, and "Learning How to Apply for a Job with The State of Michigan/Internship Opportunities."
The Job Fair was the first in many years that Bay College has hosted. Partnering with Michigan Works! and The State of Michigan-Workforce Development Agency: Veterans' Services Division, the day brought promise and excitement to the college and the community. There are plans to make this an annual event.
What's New in the Library? 
In Fall 2012, the Bay College Library rolled out a new ILS ("in the cloud", integrated library system) and a new Library website. What are the benefits for users? The new software provides a "discovery platform" that allows users to search for books, e-books, videos, and full-text articles all in one search. The user still has the capability to limit their search to view only certain formats – books, e-books, articles, videos or any combination thereof on a given subject. The new website also allows users to search the "Libraries Worldwide" to discover materials not currently owned by the Bay College library. The discovery of new materials assists librarians with patron driven acquisitions and with inter-library loan to better meet user's needs.
The new Library website has allowed library staff to work more collaboratively with instructors to develop Research Guides for individual courses and even programs such as Nursing & Criminal Justice. Please visit the library website via the Bay College homepage — click on the "Students" tab or on the "myBay" gold Tab, or go directly to http://library.baycollege.edu. The Library staff especially would like high school teachers, students, and parents to know that we have developed a Research Guide for High School Students. To access it, just click on the "Students" tab on the Library website.
Other features of the Library website include: CHAT with a Librarian, Library Tutorials (under Research Tools), and a Career Planning Guide built in collaboration with our career advisor. The library also has a digital collection titled Project Pioneer. This oral history is first-hand remembrances of early life in the Upper Peninsula, specifically Delta County. Please use the "Favorites" tab on the Library website to access Project Pioneer. Please visit the Library website to learn more about the library resources available to you. We welcome your questions and feedback!  Phone: 906.217.4055   Email: [email protected]
CJ Havill, Library Director 
Bay College to offer first GIS class this Fall!
Imagine if you were asked by your boss to find the addresses for all the houses in Delta County that cost more than $59,000, that lie east of the Escanaba river and south of 18th Road…could you do it? Most of us could but it might take a while…even a few days if you could not find an adequate map. Geographic Information Systems (GIS) allows us to look up information like this in seconds!
GIS has been around for decades and has been used for everything from solving disease outbreaks to understanding geologic changes in the earth.  A GIS system combines maps with layers of visually engaging information into a large database so that we can query on various types of data. It is the "spatial view" (you and I would call 3D) that makes it different than anything before. We can "visualize" what we want to query about…and then do it! It is now becoming an important field from geography to climatology to social science and to business and is becoming easy to use by everyone as it is migrated to the cloud. In fact, "crowd sourcing" (using data entered by people using their phones to tweet or other social media) is quickly becoming an important input into GIS.
Many businesses use GIS to gather information on who to market to and how to market to them. The information they gather is stored in large databases and then queried to make decisions on where marketing dollars should be spent. In business this is known as "business analytics".  To Information Technology workers the storing, protecting, querying and providing of this data to businesses is known as "Big Data" and requires very advanced skills in relational databases.
Bay College will offer its first class in GIS this fall. It will be offered Monday nights from 6 pm until 8:50 pm and will feature both desktop software and software available free on the Internet. Students taking the course will be expected to meet college level reading, math, and writing skills as well as possessing excellent computer skills. The course will cover introductory concepts such as "What are geographic information systems?", "How is GIS being used in the business place?", and "How can it help a student to find a job?" Also, skills related to map reading, map making, data collection, data querying, and cloud based applications will be discussed. Computer Network instructor Karl Linderoth will be instructing the class having just completed several post graduate courses in GIS. Linderoth also brings extensive map and orienteering skills to the course as well as a Master's degree in Information Systems.
Again, GIS 201 Introduction to Geographic Information Systems will be offered this fall on Monday nights from 6 to 9 pm. For more information contact Karl Linderoth at
linde[email protected]
We're Social at
Bay College!
Come by and see what we're up to on Facebook, Twitter, You Tube, and a new addition for us, Linkedin!
Facebook
This site is for you! Not only do we post news about student activities and college events, but you will also find information on Bay's press releases, marketing promotions, videos, and trivia contests. "Like" us today and keep in touch!
www.facebook.com/BaydeNocCommunityCollege
Twitter
Follow us on Twitter to get the latest news about upcoming promotions, student activities, and upcoming events, as well as anything else that strikes us as interesting!
twitter.com/BayCollege
YouTube
This site is a content-sharing service that provides an outlet for videos.
LinkedIn
Connect on LinkedIn as a resource for personal/professional development and to connect with each other on a business level.
www.linkedin.com/in/baycollege
FRST-100 Wildland and Rural Fire Control
6:00 -8:50 pm on Monday evenings
This 3 credit course will acquaint the student with wildland & rural fire control problems and methods. Wildland fire behavior and basic firefighter training are covered.   The class includes a general discussion of the history, development, and constant review of how and why wildland fire prevention and control is necessary.
The course is a great option (with immediate employment opportunities) for current or future law enforcement students, natural resources students, or anyone who seeks employment in the outdoors.  Students who complete the Wildland and Rural Fire Control course, along with satisfactory completion of the required physical fitness test (Pack Test), could earn their Red Card certification.  This will allow students to apply for seasonal firefighting jobs with all state and federal agencies.