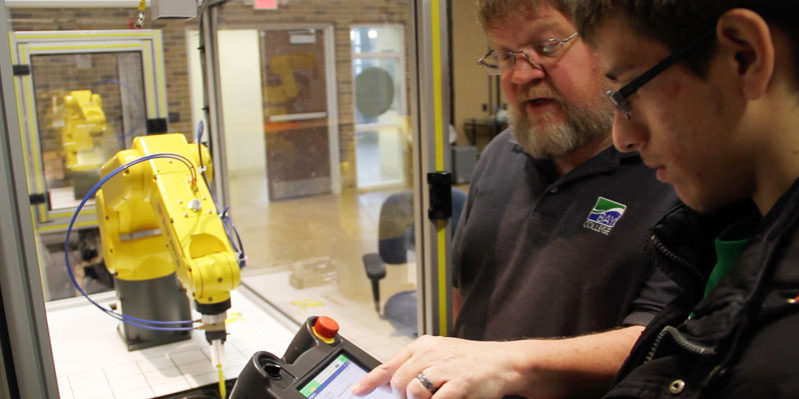 Turbo-charge your life in two years or less
Do you need to start a career, and fast? What is the secret to getting the training employers want? The latest research shows there are lots of positions waiting for qualified applicants in Michigan and beyond.
What do many of these in-demand jobs have in common? They are innovative fields with interesting and challenging careers. And they require only a two-year associate degree or certification—available right within your local community.
Take your pick from opportunities in growing fields where a bachelor's degree isn't a requirement. You can avoid feeling trapped by student loan debt with an affordable community college education—don't forget to fill out the FAFSA to get all the financial help available to you.
By enrolling in specialty programs, you finish with highly sought-after skills and credentials. Think about your natural interests and abilities and choose from many of the growing career fields in Michigan and beyond.
ROBOTS ON THE RISE

 
Are you a techie? Do you like to work with your hands and problem-solve? Does the complexity of machinery fascinate you?
One of the hottest job markets today is industrial manufacturing. While it may sound old school, the manufacturing trades have come a long way technologically. Mechatronics combines skills in mechanical, electrical, computer and control systems to automate and optimize operations. Mechatronic technicians design, build, maintain and repair automation equipment and program control systems.
Bay College is also an Education Certified Training Institution for  the FANUC Certified Education Robotics Training (CERT) program, providing training opportunities for local manufacturers.
The US Bureau of Labor and Statistics forecasts mechatronics will grow 15% from 2017-2027.
Median hourly wage in Michigan
Mechatronics (electrical or mechanical) Engineer: $42.76
Robotics Technician: $27.84
Electrical or Electronics Drafter: $23.12
Source: U.S. Bureau of Labor Statistics, May 2018
CYBERSECURITY IS HOT
Do you thrive on problems of logic? Love to protect? The world is increasingly interconnected with new technologies, devices, networks and systems creating great convenience, and lots of new jobs. And these high tech jobs are not just for those with advanced degrees.
The more information produced and made available on the Internet, the more complicated it becomes to process. "Big data" is more than just the data itself. It is a field of computing that involves new methods of capturing, selecting, analyzing, and protecting all that information.
Cybersecurity is one of the hottest jobs with a wide range of applications. Information security jobs are projected to grow by 40 percent or more over the next 10 years. The career field of Information Technology (IT) is projected to grow 12% from 2014 to 2024, faster than the average for all occupations. These occupations are expected to add about 488,500 new jobs, from about 3.9 million jobs to about 4.4 million jobs from 2014 to 2024. Greater emphasis on cloud computing,
the collection and storage of big data, 5G networks, more everyday items and wearables becoming connected to the Internet in what is commonly referred to as the "Internet of things," and the continued demand for mobile computing are driving job growth.
If information technology is your passion, Bay College can get you networking to a job in business or government.
Median hourly wage in Michigan

 
Cybersecurity Information Analyst: $43.54
Network and Computer Systems Administrator: $36.00
Computer Network Support Specialist: $27.47
Source: U.S. Bureau of Labor Statistics, May 2018
The World of Business
Are you interested in positioning yourself for a better entry-level opportunity, getting a degree in business, or perhaps vying for a promotion in your current job? Bay College's business programs can prepare you for a rewarding career in fields such as accounting, business management, marketing, information systems, or administration. At Bay, you have the option of immediately applying what you learn in the workplace and/or transferring to another college or university to pursue a bachelor's degree.
From start-ups to corporate careers, success begins with a business career which best fits you. If you think you might like to work for yourself, consider entrepreneurship or accounting. If your goal is to work for a large corporation, consider business administration.
Median hourly wage in Michigan
Buyers and Purchasing Agent: $30.77
Market Research Analyst or Marketing Specialist: $29.46
Accountants, Bookkeepers and Auditing Clerks: $18.18
Source: U.S. Bureau of Labor Statistics, May 2018
Behind the Badge
Are you a disciplined individual with strong critical thinking skills, personal integrity, and respect for the law? Criminal justice combines law enforcement, corrections, and forensic science training. Are you physically fit and quick-thinking? Firefighters are critical for every community and deeply respected. Altogether, Protective Services are projected to grow by 158,000 jobs, with higher than median annual wages for all occupations.
Job opportunities with good pay and job security await careers such as police officers, legal experts, probation workers, homeland security and corrections professionals.
Median hourly wage in Michigan
Detectives and Criminal Investigator:: $38.61
Police and Sheriff's Patrol Officer: $27.74
Firefighter: $21.74
Correctional Officer: $27.08
Source: U.S. Bureau of Labor Statistics, May 2018
We're here to help you on your new career path. For more information on how Bay College can help you succeed in a career of your choice, call us at 800.221.2001.