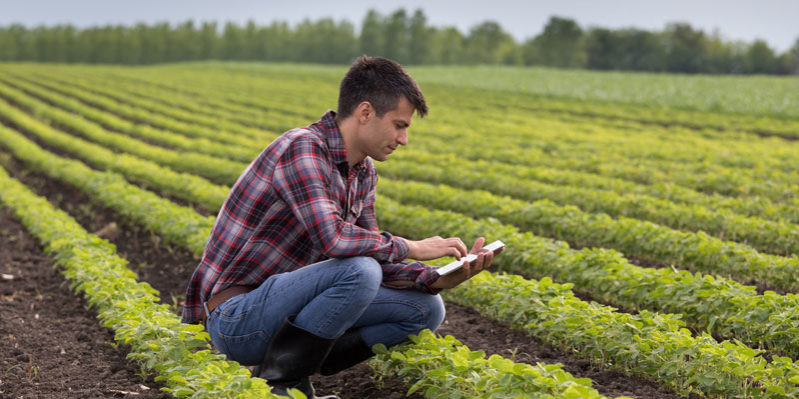 Did you know that Ag is over a 1-billion-dollar enterprise in Michigan?
Amy Reddinger & Jesse Traub
The Upper Peninsula is home to thousands of farms and agricultural businesses, and the biggest crops in the UP are seed potatoes and hay. While family farms are still prevalent throughout our region, there are also new, cutting-edge jobs in agriculture available.
Want to take your family farm into the 21st century and beyond? Interested in being a research technician? Want to get your hands dirty as a horticulture specialist? Maybe you'd like to learn more about how drone and data technology are being used in agriculture today?
An exciting new partnership has been created between the Institute of Agricultural Technology (IAT) at Michigan State University and Bay College to allow you to study the science and technology of agriculture from at home in the UP. This combined associate degree and certificate program provides students with a solid background in plant and soil science, precision agriculture, water management, plant pathology and business management. Students will be technically-prepared, career-ready graduates in agricultural operations upon completion.
Median hourly wage in Michigan (2019):
Agricultural Manager: $31.37
Agricultural Inspector: $25.83
Supervisor in Farming, Fishing and Forestry: $18.49
Agriculture: A Changing Industry
US workforce at the beginning of the 20th century, but as farm production consolidated to larger and larger farms, today farmers account for 1% (1.75% in Michigan) of all those employed. However, the agricultural industry itself has continued to grow: approximately 21% of Michigan's jobs are in an agriculture-related field. Jobs in seed production, equipment maintenance, food processing, marketing, and many other segments all support the agricultural endeavor of our state.
On a nation-wide level, the US agriculture sector has nearly 60,000 skilled openings each year, but only 35,000 graduates to fill them. The US Department of Agriculture's National Institute of Food and Agriculture Director Sonny Ramaswamy warned in January 2017, "Nearly 40% of jobs in the food, agricultural and environmental sciences will go unfilled in the next five years."
Although it has a reputation for being a bit stuck in the past, agriculture has always used the latest advances from the wider world of technology. Agriculture was the first to make practical use of genetics and an early adopter of mechanization and the discoveries of chemistry. Agriculture continues to make use of new technologies today, including big data, GIS, autonomous vehicles, and genetic engineering. The agriculture program prepares its students to take advantage of the latest advances in agricultural technology and gives them a greater understanding of the current state of the industry.
Ways technology and education work to inform the current agriculture industry:
Precision agriculture
Two technologies — global positioning systems (GPS) and geographic information systems (GIS) — are indispensable features of the smartphones and navigation systems we use every day. They have also revolutionized farming, by combining real-time data collection and positioning systems to map fields and yields and guide tractors.
On-board GPS has made it possible to work in conditions like fog and darkness that used to impair farmers. GIS helps identify specific areas of the field that need irrigation, fertilizer, or pesticide treatments, making for a more efficient and environmentally friendly farm. The accuracy of these technologies have allowed farmers to create detailed maps of problem-areas in their fields and accurately navigate and plan them out year after year.

Rise of the robots
Given the adoption of geospatial systems, it's not surprising that the agriculture industry has also begun exploring the use of drone technology in crop production. It's big business: drone company PwC estimates the market for drones in farming at $32.4 billion.
Drones can be used for soil and field analysis before crops are planted, which is then used to plan irrigation and fertilizer application. Unlike satellites, drones can collect data continually, much more cheaply, and with more flexibility for problematic weather conditions.
On the horizon are "ag-bots" that can harvest crops, pick fruit, weed, and perform other laborious and complex tasks in the fields. These robots are already in experimental testing. Eventually, "swarms" of robots could tend fields while monitoring soil and plant quality, with little human oversight.
For more information about our Agriculture Operations Program, please contact Jesse Traub, program coordinator at 906-217-4196 or by emailing [email protected].