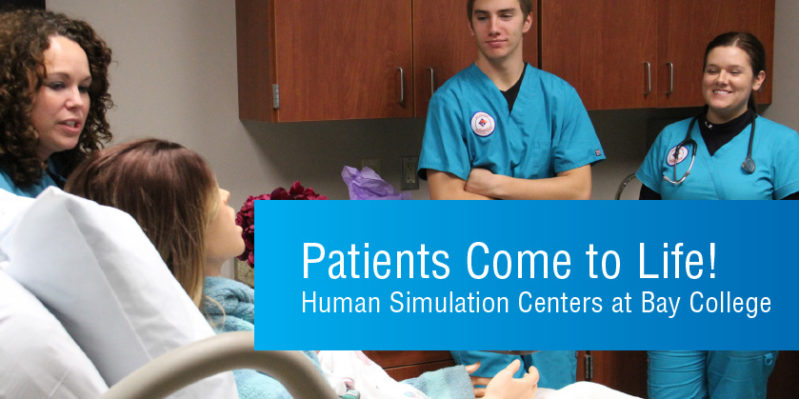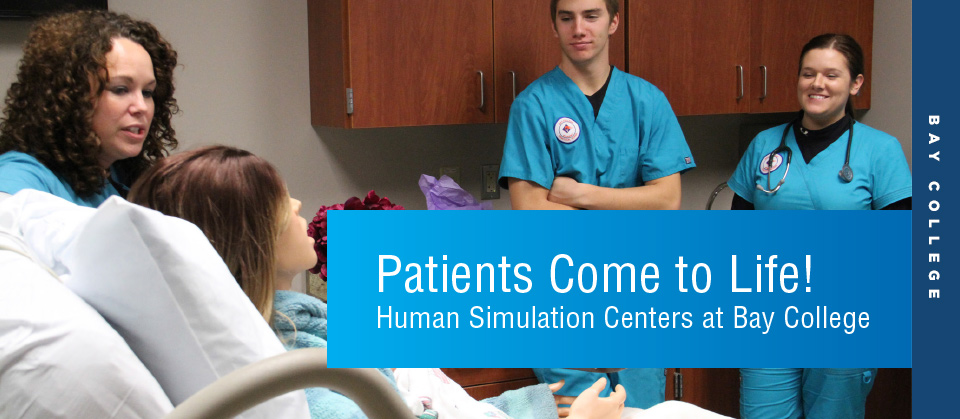 This is simply an exciting time to be in nursing education at Bay College, with human simulation centers at both campuses. Both centers are equipped with high tech human patient simulators including:  SimMan 3G (an adult simulator); SimMom (who will deliver a newborn); SimJunior (a child simulator); and SimNewB (a newborn baby). These manikins can bleed, sweat, cry, and speak just to name a few of their many amazing capabilities.</p.
With two Simulation Technicians onboard and after intensive training of nursing instructors, Bay College is incorporating simulated learning activities at every level of our nursing program. Simulated learning experiences are an innovative way to teach students about real situations they will experience as nurses. This is an interactive environment that allows hands on learning in a controlled environment. Simulation allows students to experience a variety of clinical scenarios that they do not always encounter in their hospital rotations. For example, some students do not get to experience a delivery of a newborn in their OB rotation. Now, with the help of SimMom they will get to assist in a delivery of a newborn in the Simulation Center.
As of April, 2014, over 120 students have experienced simulated learning in the centers in Escanaba and in Iron Mountain at the West Campus. By the end of the summer session, the nursing students in all specialty areas of the program will have participated in a simulated learning experience.  Students have cared for SimMan (and family) in multiple health/illness conditions.  In addition to students, more than 300 community members have toured the new simulation facilities. Students have cared for the simulation patient with the following diagnoses:
Chronic Obstructive Lung Disease with complications
Overdose and drug detoxification
Congestive heart failure
Pulmonary embolism after
hemi-colectomy surgery
Gastrointestinal bleeding
Postpartum care after C Section delivery
Newborn with aspiration
Renal colic
Cardiac emergency
Diabetic hypoglycemic teenager
We have also used the Sim Centers to stage simulated learning activities for students in the Mental Health Nursing rotation. For this area of nursing we are using human actors (Standardized Patients) instead of the manikins to role play patients with major psychiatric disorders and symptoms.
Simulation promotes active learning, increases student confidence, and improves patient safety. We are extremely proud to be able to offer simulation to our students and to our community.
Patti Henning
Dean of Allied Health & Wellness
at Bay College
Student Comments
Here are a few comments of students after their simulation experiences. The response has been overwhelmingly positive.
"This was a very valuable experience. There were scenarios I have never seen in practice and more emergent situations. It helped me to think more critically on the spot and think of all the components that are linked to the care of the patient. I hope to come back and experience more of the simulation lab."
"I thought using the Sim Lab today, for the first time was great. I'm really proud to be a Bay student and have this technology at my disposal."
"I felt this experience was very beneficial! Being "in the moment" and "on the spot" really does help with assessment skills and critical thinking."
"I think we need more of this. It was very helpful!"
"I just received my nursing degree.  It was an awesome experience – Bay is the best.  And now with sim it will be even better!"
Nicole Wagner is the Simulation Technician/Lab Coordinator for the Simulation Center at the Escanaba campus. Nicole is a 2002 graduate of the Bay College Nursing Program and received her Bachelor's Degree from Finlandia University. She has provided nursing care in the community for the past 12 years, working for Marquette General Hospital and OSF Medical Group in Gladstone. Nicole joined the Bay College Nursing Department in 2011 working as a professional tutor for nursing students. Nicole lives in Gladstone with her husband Tom and their two daughters Emma and Abigail.
Danielle LeBoeuf is the Simulation Technician/Lab Coordinator for the Simulation Center at tthe West Campus in Iron Mountain. Danielle is a 1994 graduate of the Bay College Nursing Program and currently working towards her Bachelor's Degree.  She has worked in the Escanaba community for the past 20 years, working for OSF St. Francis Hospital and Fresenius Medical Care dialysis clinic.  Danielle joined the Bay College Nursing Department in 2014.  Danielle lives in Bark River with her husband Kevin and their three children Brendan, Allen and Anna.