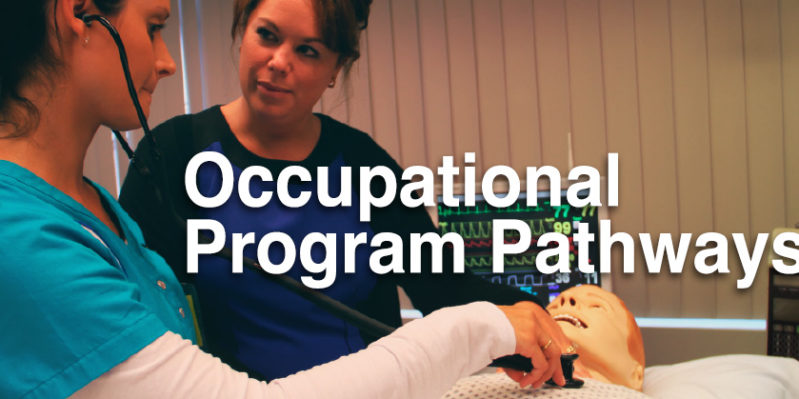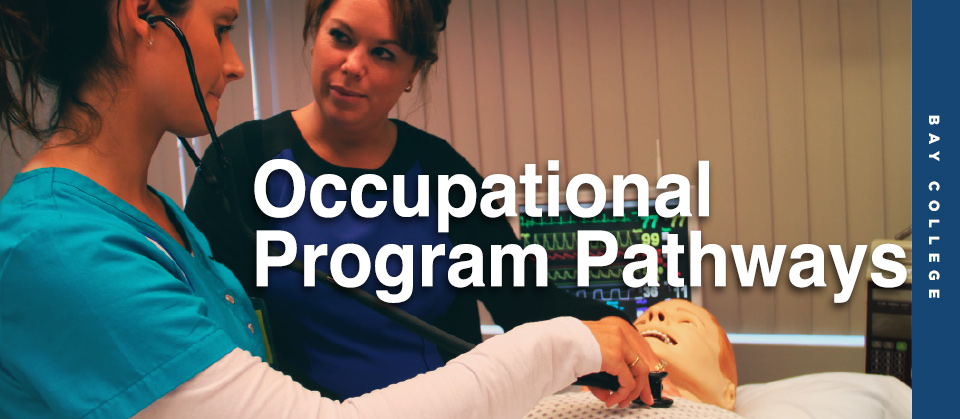 Healthcare is a hot topic in the news and one of the fastest growing career areas as result of our aging population. At Bay College, healthcare educational paths are expanding.
Nursing was the first allied health program at the College. In 1965, Bay de Noc Community College graduated 24 licensed practical nurses (LPNs). The Registered Nursing (RN) program was added as the demands for advanced nursing training developed across the nation. To date, Bay College has graduated more than 3,000 practical nurses and over 1,500 registered nurses.
Pathways have expanded in healthcare, and the race continues to have enough healthcare workers to care for aging baby-boomers. At Bay's Escanaba campus, with funding from the State of Michigan and private donors, the allied health area is being completely rebuilt. In addition to two nursing laboratories with 5 beds each, a simulation center was added with 4 hospital-like rooms. A two-room simulation center was also incorporated into Bay College West.
"This is an exciting time to be in nursing education at Bay College," said Nicole Wagner, Simulation Technician. "We are introducing human patient simulators for the first time in our program. Simulated learning experiences are an innovative way to teach students about real situations they will experience as nurses. This is an interactive environment that allows hands-on learning in a safe, controlled environment. Also, simulation allows students to experience a variety of clinical scenarios they may not always have in their hospital rotation. For example, some students do not get to experience a delivery of a newborn in their OB rotation. Now, with the help of Sim Mom they will get to assist in a delivery of a newborn at our Simulation Center. Simulation promotes active learning, increases student confidence, and improves patient safety."
Four types of human patient simulators will be added to the Simulation Centers: Sim Man 3G, an adult simulator; Sim Mom, who will deliver a newborn; Sim Junior, a child simulator; and Sim NewB, a newborn baby. These mannequins can bleed, sweat, cry, and speak just to name a few of their many amazing capabilities. They are programed to simulate any health condition imaginable – strokes, seizures, hemorrhage, delivery, etc. Bay is extremely proud to be able to offer simulation to our students and to our community.
Additionally, Bay College has added a healthcare certificate to the curriculum to allow students to quickly train for entry-level health care careers such as phlebotomy. To improve community access to advanced life support care in health care emergencies, the college is currently exploring the feasibility of offering a Paramedic program. Bay College educated nurses and healthcare workers are your friends and neighbors, caring for you and saving lives in our community every day!
What's New in Other Occupations?
Water Tech Job
Market Exploding!
The Water Resource Management associates degree has been offered at Bay College for 45 years. Students who have successfully completed their degree have found long-lasting stable careers in their area of study. Additionally, the job market in this industry is exploding across the nation. The work force is in need of highly qualified operators to fill the vacancies of those who are retiring. Trends predict this to be so for the next 10 years. Michigan alone has projected a 12% increase in new job growth in this industry over the next 5 years. The industry is in need of people who like math, chemistry, mechanics, problem solving, and working with others in a team oriented environment. To earn great pay & benefits, contact Cory Larson at [email protected] to
learn more.
Geographic Information Systems
Geographic Information Systems continues to take shape at Bay College! The new GIS lab has been set up with 16 modern workstations all running Google Earth Pro, Open Source GIS software packages, and coming soon…ESRI ArcGIS.
Graduates with ArcGIS are highly sought after in the nationwide job market. Workstations will sport a connection to a Windows 2008 Server running ArcGIS Sequel server and storage, allowing students to use spatial analysis of both local and world wide data sets and to create high quality maps and posters.
ESRI founder, Jack Dangermond said "The application of the GIS is limited only by the imagination of those who use it!" There is a great deal of truth to this description as Geographic Information Systems is a fusion of several academic domains (math, geography, earth science, physics, information systems, computer networking) spatially displayed in an engaging interface such as ArcGIS or Google Earth Pro. Geographic Information Systems is currently used locally by county governments to plan residential and business expansions, water and wastewater departments to track equipment, forestry to plan forests and harvesting, and even by real estate and investors to decide on where to purchase land to build a business.
Learn about GIS on October 31st in Lab 400 of the Health & Applied Technology Building at Bay College. The lab will be open on International GIS Day, 9 am to 3 pm. For further information regarding Geographic Information Systems, contact  Karl Linderoth at [email protected]
CNSS Network Students are Certifiable!
The Computer Network Systems and Security department became a Microsoft IT Academy in 2007 and began the use of Microsoft Technology Associate (MTA) assessments in 2012. The two major purposes of the assessments are to ensure that students are properly prepared for careers in the demanding field of Computer Networking and to verify that the Bay College program is providing such preparation. The two assessments that are used to ensure graduates are ready for the exciting world of networking are the MTA Networking Fundamentals and the MTA Security Fundamentals. In the first year that the assessments were given, 60% of the students passed the Networking Fundamentals, and 77% passed Security Fundamentals. This spring, the pass rates increased to 70% and 96% respectively.
Check out a certified career in networking! Jobs are waiting!