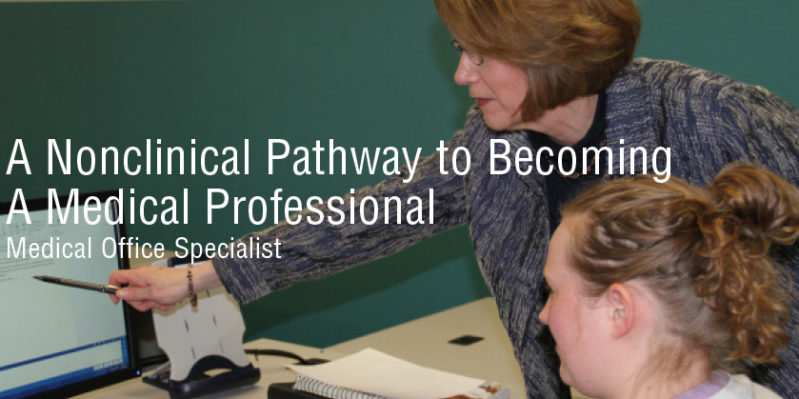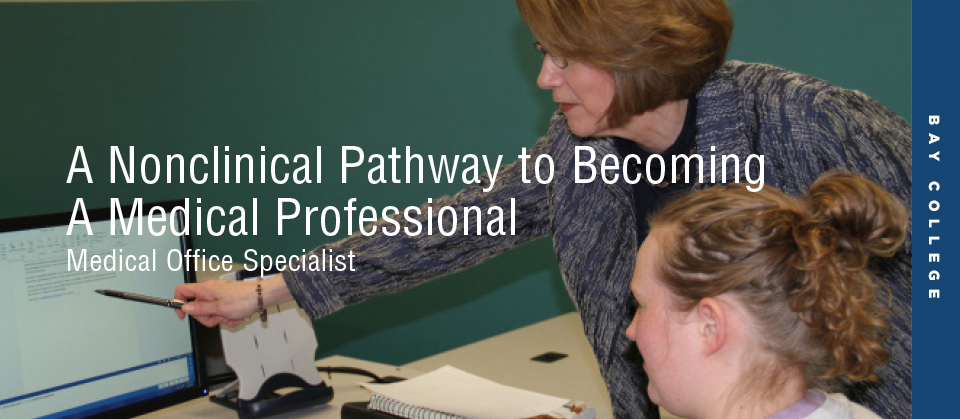 According to the Occupational Outlook Handbook from the U.S. Bureau of Labor Statistics (www.bls.gov), the medical office worker is predicted to be one of the fastest growing, top 20 occupations through 2022.  This profession is also listed as one of the top 20 occupations with highest number of employment opportunities through 2022.
Medical Office Specialist
Bay College's Medical Office Specialist is one of the career paths in Office Information Systems that leads to an Associate in Applied Science Degree in this field.  A medical office specialist is responsible for a variety of administrative duties, including greeting patients, keeping accurate and updated electronic records, completing and transmitting insurance claim forms after appropriate procedural and diagnostic coding, working with healthcare documentation, and communicating effectively with patients and healthcare providers.
A medical office specialist is required to maintain confidentiality, work efficiently with the electronic medical office record, and maintain continuing education in medical vocabulary, medical coding, and medical office software.  This individual must also be dedicated to accuracy and attention to detail.
A career as a medical office specialist offers diversity, daily challenges, and opportunities for advancement.  This career pathway is essential to the practice of medicine, keeping administrative functions running smoothly for healthcare providers and facilities.
Employment opportunities are available in nearly every healthcare environment.  These include physicians' offices, medical clinics, hospitals, long-term care and rehabilitation centers, nursing homes, acute care centers, dental practices, chiropractic offices, public health departments, and insurance companies.
Effective in fall semester 2014 at Bay College, several new courses have been added to the Office Information Systems, Medical Office Specialist curriculum.  These include an electronic medical office records course, as well as a health information management course.  The healthcare documentation course has been revitalized according to standards from the Association of HealthCare Documentation Integrity, and an internship has also been added to the curriculum for the new academic year, providing opportunities for real world-of-work experiences.
Another enhancement to the program this year is preparation for the anticipated arrival of ICD-10-CM (International Classification of Diseases, Tenth Revision, Clinical Modification).  This diagnostic coding system is being revamped throughout the United States, with anticipated date of implementation moving from October 1, 2014 to October 1, 2015.  This new coding system moves from ICD-9-CM with approximately 15,000 codes to ICD-10-CM with over 69,000 codes.  Students receive training in the latest coding techniques and standards, as well as electronic coding software.
For additional information about this exciting program and career path, please contact Janice Barker, Office Information Systems instructor  and program coordinator, at  906-217-4220 or by e-mailing [email protected]