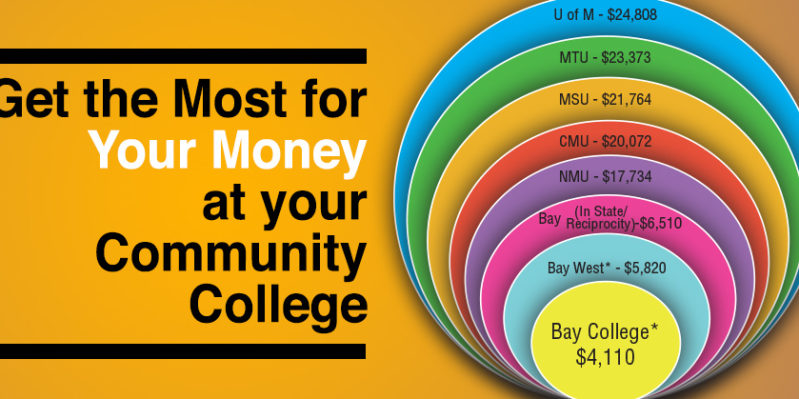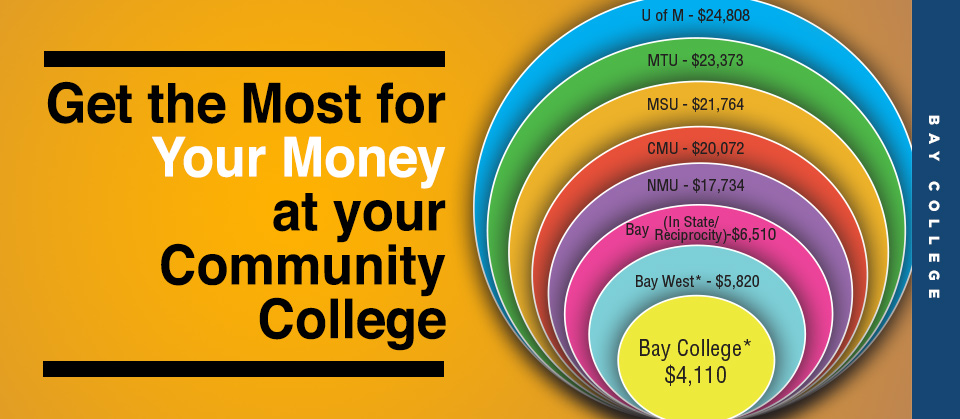 Your Community College is the path to a quality, affordable education and a brighter future. Bay offers you the opportunity to earn an associate's degree and enter the workforce, or transition to a bachelor's degree program at the college or university of your choice.
This is while paying less tuition than a four-year institution and, in most cases, while being able to live at home. Additionally, Bay can help you get the skills you need to change your career and achieve your personal goals. All of these possibilities are flexible and geared to fit your schedule at an affordable cost.
Tuition Savings
Tuition is 4-6 times lower than most four-year colleges and universities.
Classes are offered close to your home or work, with our Main Campus location in Escanaba, along with Bay College West in Iron Mountain and a Regional Center located in Manistique. Online courses and programs are options for attending college from your home or workplace via the internet.
Apply for Financial Aid
Financial aid makes it possible for many students to turn their dream of a college education into reality. To see if you qualify for financial aid, complete the Free Application for Federal Student Aid (FAFSA) at
www.fafsa.ed.gov. The priority filing deadline for fall classes is typically mid April. Financial aid workshops and assistance are offered on campus to help answer your questions and help you correctly fill out applications.
Scholarship Opportunities
The College offers hundreds of scholarships to students for their studies at the College and toward bachelors degree programs. Scholarships recognize academic efforts and financial need, lowering the costs of college. Apply online and be considered.
The Smart Path to a Bachelor's Degree
If you have your sights set on a bachelors degree, it makes sense to complete your first two years at Bay and earn an associate's degree. You will pay less in tuition compared to other colleges and universities and interact with faculty in classrooms that average
16 students. Your experience is personalized and saves you a year of tuition.
Seamless Transfer Opportunities
While all of our credits are transferrable, the College provides specialized transfer assistance through transfer agreements with a multitude of common universities. Dozens of transfer agreements make it easy for your credits to seamlessly transfer to a number of other respected institutions. Good grades also make you eligible for scholarships toward your bachelor's degree education.
Many In-demand Jobs Require an
Associate's Degree
Computer support specialists, nurses, office systems, welders, water resource technologists, and more are high priority occupations in Delta County, and these great careers require a two-year degree. With this credential, you can always continue your education and pursue a bachelor's degree.