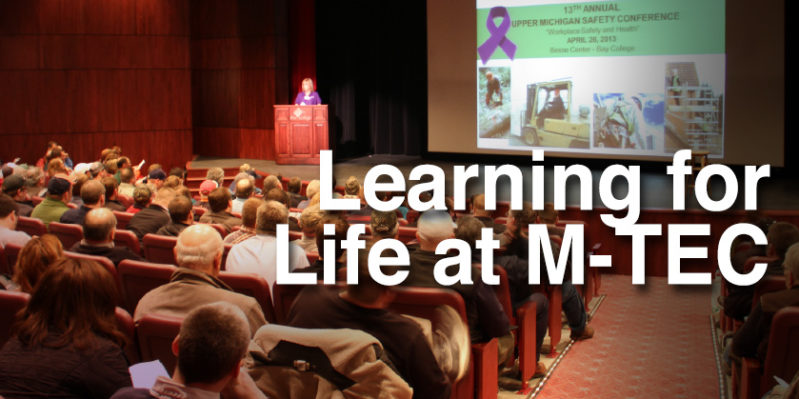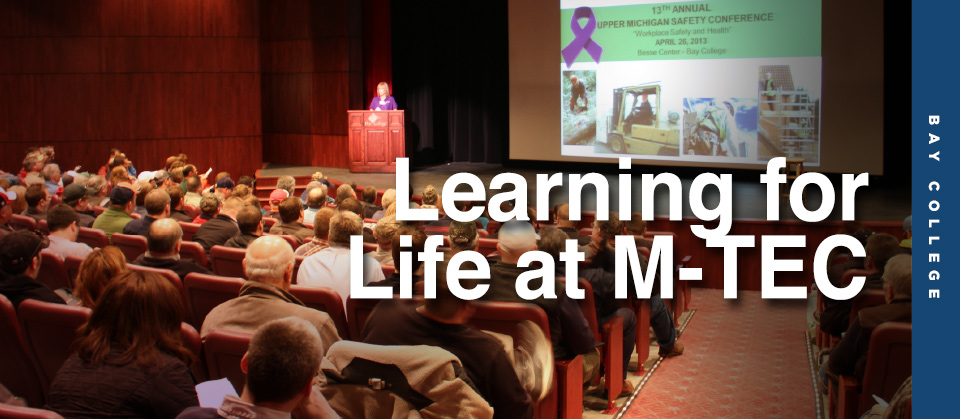 The Michigan Technical Education Center (M-TEC) began operation on March 17, 2000 with the mission of assisting employers in developing and maintaining the skills of their employees and promoting economic development activity throughout the Upper Peninsula. It is the non-credit learning side of Bay College. Key areas of community education and workforce development for our communities include:
Industry Training: Assist in the design, development, and delivery of activities and programs to create, sustain, and retain a viable workforce that can support current and future business and industry. This includes programs such as Certified Nurse Aide (CNA), Mine Safety (MSHA) and IBEW Apprenticeship Program.
Contract Training: Contracts directly with an employer to assess training needs, develop training specific to organizational needs, and to deliver the training according to the employer's schedule. Training can be delivered at the company site, a Bay College facility, or at a contracted location. Areas of interest include: Hydraulics, Blueprint Reading, Robotics, Microsoft Office applications, Team Building, Basic Life Support, First Aid and CNC Training.
Professional Development: M-TEC offers a wide variety of workshops and seminars open to the public. They are designed to assist employers and incumbent workers to improve capabilities through job-related training and professional growth opportunities. Continuing Education Units (CEUs) are awarded for enrollment in many of the non-credit workshops. CEU is a nationally recognized standard unit of measure for substantive, non-degree learning experience which meets certain professional criteria. State and Nationally recognized CEUs for individuals seeking to upgrade or maintain their professional credentials may also be available. Examples include:
Essentials in HR
Mine Safety
Photography
Adult Learner Computer Classes
Supervisory Skill Building
Microsoft Office Applications
Conferences and Seminars: The M-TEC presents and hosts conferences and seminars through-out the year. Most conferences are an annual event.
Upper Michigan Safety Conference
Dental Seminar
Optometry Seminar
Financial Security Seminar
Online Courses: Many professional development and enrichment courses are available through instructor-facilitated online courses. In addition, online career training courses are available-providing the skills necessary to acquire professional positions in many in-demand occupations.
Facility Rental: The M-TEC at Bay College has seminar/classrooms, industrial rooms with overhead door access, computer labs offering the most up-to-date Windows/MS Office Suite software, and a semi-private executive board room available to the community for rent. Audio/visual equipment and catering services can be arranged.
Lease Agreements: The M-TEC has provided long-term leased space to health care industries, local manufactures, telecommunication service providers, organized labor, and nationally recognized high-profile organizations.
Testing Services: The M-TEC assists individuals in moving one step closer to their academic or professional goals by providing certification and licensing testing services. Examples include:
ServSafe
ASE -Automotive Service Excellence
Prometric
PAN – A TALX Company
National Healthcareer Association (NHA)
Reserve A Room ON-LINE
Bay College recently went live with a new scheduling software package: Event Management Systems (EMS). Event & Media Coordinator, Debbie Stiglitz, says "this new software is amazing, and is being well received by the employees at Bay and our external customers."
The new software has three important components that allow versatility in the way a space is reserved at Bay College. Employees can use the software right from their Outlook calendar, incorporating many of the features of Outlook Exchange.
The web interface or Virtual EMS allows external users to browse events that are happening at Bay College, and to request space on both the Escanaba and Iron Mountain campuses, as well as M-TEC. An account is immediately given to access several reservation templates.
You can reserve a room and manage the entire reservation from booking, to ordering catering, audio visual, and many other options.
To check out the new program and reserve facility space, simply navigate to events.baycollege.edu.