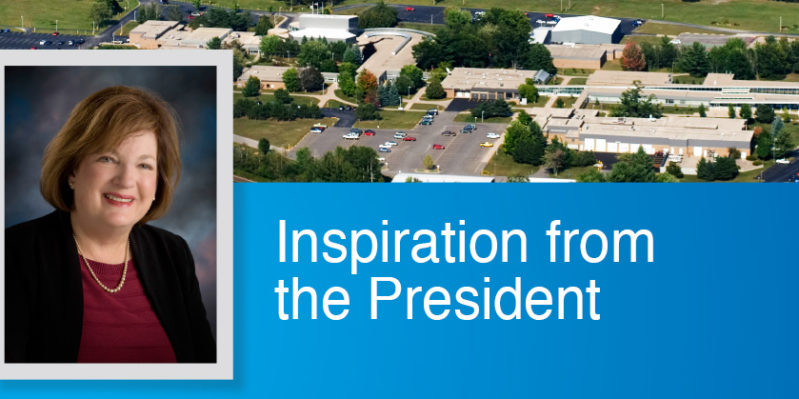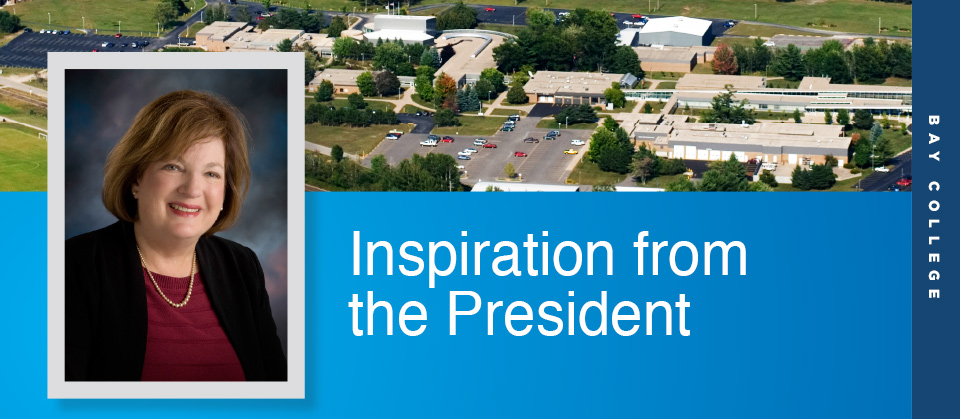 I am humbled and proud to serve as the fifth President of Bay de Noc Community College. Bay has a 50 year history of providing quality education in Delta County. This has been accomplished because Delta County voters have supported Bay College through the 2.5 charter mil designated for operations and a renewable 1 mil designated for capital expenditures.
Bay's mission is encapsulated in the following phrase: Student Success, Community Success, Culture of Success.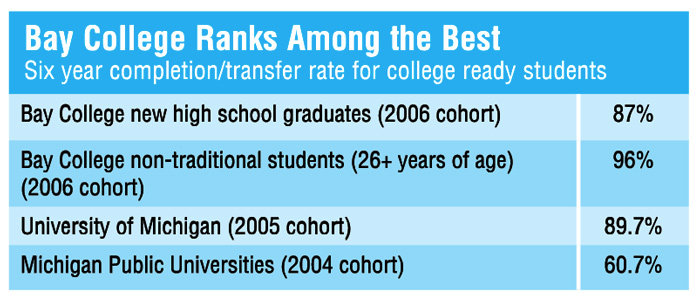 The Bay College Board of Trustees has awarded 13,539 certificates and degrees over the past 50 years. As a result, almost a $100 million is pumped into the community. Better citizens, progressive critical thinkers and greater personal satisfaction are experienced by those who attend and complete certificates and degrees.
Student success is important at Bay. For those students who need to transition into college, Bay has developed accelerated learning opportunities in transitional classes, great tutoring, supplemental group instruction and multiple student support opportunities to help students develop college success skills.
Bay College is the hub of learning and enrichment in the community we work, love and live.
Fifty-two percent of Bay College classes are conducted on site at the Escanaba campus. Twenty-seven percent of Bay classes are offered
online, giving students the opportunity to schedule study time that works into their schedule. Bay offers complete online degrees. Additionally, students are able to complete a four year degree on the Escanaba campus through a partnership with Lake Superior State University (LSSU) and Bay College.
Community success is also very important. Bay has active partnerships with area employers and area educational institutions and is heavily involved with economic development as a member of the Delta County Economic Development Board and the Upper Peninsula Economic Development Board.
Bay is a founding member of the Delta County College Access Network which brings K-12 partners, business partners and non-profit agencies together to find ways to increase college attendance and completion. Through this partnership, two new graduates from Michigan State University are working at Escanaba High School, Gladstone High School, Bark River-Harris High School and Nah Tah Wahsh Public Academy, encouraging and facilitating student's enrolling in college. Additionally, Bay hosts the Bay Middle College on its campus and has a growing dual credit program with area high schools with record dual enrollment in Fall, 2013.
The Bay College M-TEC offers conferences, customized training for area businesses and lifelong learning opportunities. Bay College facilities were used by community members for 12,000 hours over the last year, and Bay College employees provide extensive volunteer hours in the community.
Bay is committed to providing cultural enrichment within the community. The college art collection is displayed around campus on a rotating basis. Area artists display their art 1-2 months at a time in the Besse Center and Hartwig galleries. Professional musicians perform several times each year at the Besse Performing Arts Center, as well as the Bay College Drama Club and their productions. Additionally, eight to ten entertainers a year perform for students and the community, including magicians, hypnotists, comedians and the like.
Soccer fields for area youth, teen and adult soccer leagues, walking trails, and a labyrinth are all available for community use on the campus.
Dr. Laura Coleman,
President
Half of the "Best Jobs" Require Fewer Than Four Years of College
US News updated its Best Jobs for 2013 and the number one job is….dentist! Okay, for that one you're going to need an advanced degree. But if you think a bachelor's degree or higher is the only avenue to get a good job, think again.
To make the "best jobs" list, a job must first be in demand, but it also has to pay a good salary and provide job satisfaction. You'll find many healthcare and IT jobs on the list, and two of the top 10 best jobs–registered nurse and dental hygienist–require only a two-year degree. In fact, over half of the jobs on the list require less than four years of college.
Many–such as medical sonographer, patrol officer, and preschool teacher-require a two-year degree. Others, such as medical assistant, require only short term training, such as a health care or certified nursing assistant (CNA) certificate, to get you started.
"The 100 best jobs" money.usnews.com