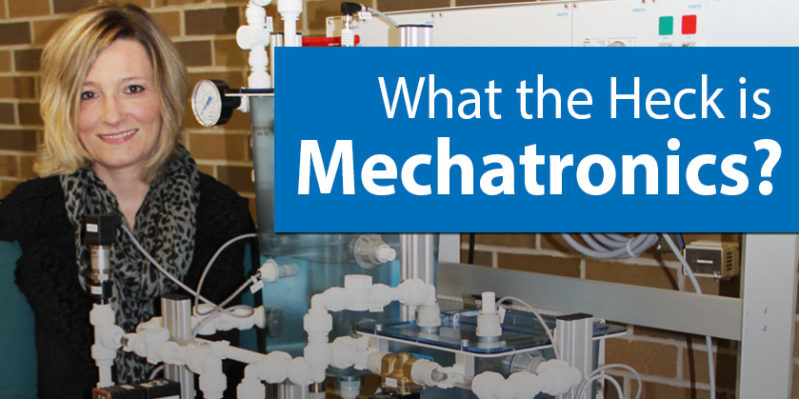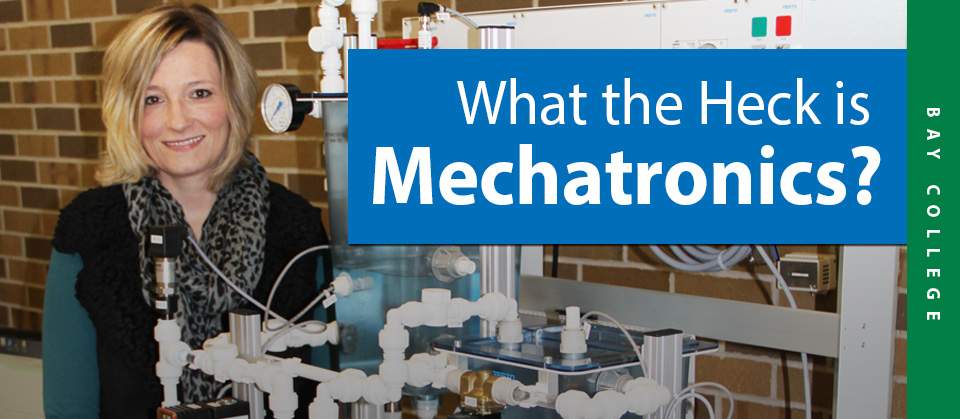 The first response from most people when they hear Bay College has a new Mechatronics program is basically, "What the heck is Mechatronics?"
Just looking at the word, you might figure out that it is a mixture of mechanical and systems.  This was the original source of the word. However, as systems became more and more complex, the term has expanded to include computers, robotics and system controls.
Mechatronics is present in any automated system, from heating, ventilation and air conditioning (HVAC) systems to robotic assembly lines. One basic example of a mechatronics system is the automatic garage door opener. The heart of the system is a mechanical system of gears or pulleys that is driven by an electric motor to open or close the door. Early systems were hardwired to a pushbutton so basically they were simply a mechanical and electrical system. Later, remote controls were added to allow the door to be opened from inside the vehicle. Modern systems are required to have sensors installed that will prevent the door from closing if an object is in the way. These features added more complicated control systems to the earlier mix of electrical and mechanical systems. The newest feature to be added is control of the door via a cell phone application that literally allows control of the door from anywhere that you have an internet connection. So the modern garage door opener is a mechatronics system that includes electrical, mechanical, control, and computer technologies.
Students in Bay College's new mechatronics certificate program will learn the basic principles and skills to install, maintain, troubleshoot, and repair mechatronic systems. Courses taken will cover the fundamentals of fluid power, basic machine tool operation, electrical motors and their control systems, and programmable logic controllers. Recent grant awards will also allow the students to work on models of a multi-stage assembly line, including building to print, configuring the hardware, and programming the operation.
The inaugural Mechatronics class begins in the Fall of 2015.
For more information, contact Mark Highum at [email protected]
Faculty Spotlight: Mark Highum
Mark Highum has been a faculty member at Bay College since 1996. He holds a Master of Science Degree in Career and Technical Education (Highest Distinction) from Ferris State University. He was originally hired to teach Electronics, and was one of the originators of the Computer Network Systems Degree in 1999. He is CompTIA certified in A+, Network+, Security+, and Linux+, and is a Microsoft Certified Systems Administrator in Windows Server. He also holds the Senior Certified Electronics Technician certification from the Electronics Technicians Association.
Prior to teaching at Bay College, Highum retired from the US Navy, where he served as an Electronics Technician Chief Petty Officer (Submarines) in the Navy's Nuclear Power Program.
Highum has served as a member of the SkillsUSA National Education Team for over ten years. In that capacity, he has worked on the Mechatronics contest, including helping to train the first USA Mechatronics Team to compete at the World Skills Contest.
Starting this fall, Highum will begin teaching in the new Mechatronics certificate program. Highum lives in Gladstone with his wife Renae. They have two grown children.  His interests include digital photography and playing drums and guitar.