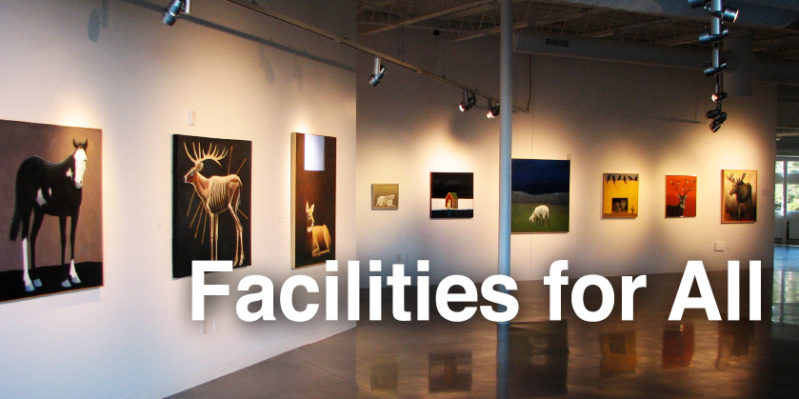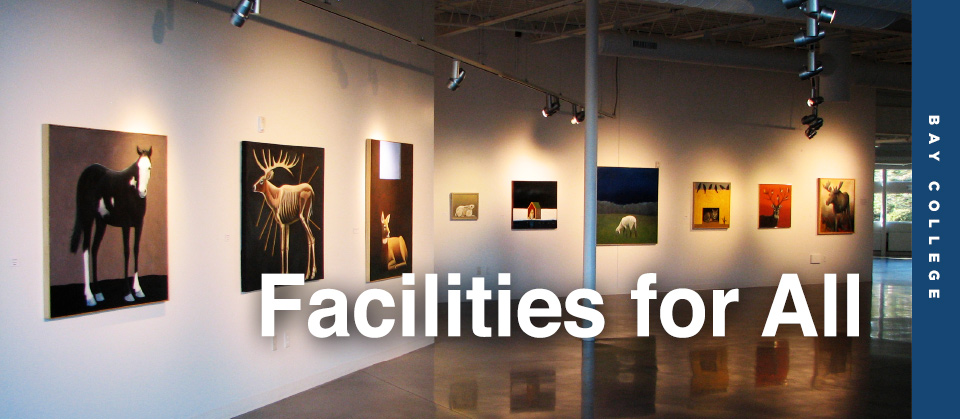 Bay College is your community college, providing learning opportunities for all ages.
It starts early with the YMCA pre-school and youth programs and the M-TEC robotic summer camps. Then it continues with dual-enrolled high school students earning college credit, as well as traditional college students and returning adult students. Additional opportunities are provided for performance goers, art enthusiasts, individuals desiring professional business development, and personal enrichment seekers. Those opportunities continue all the way through to the Bay Sages-a group of learners focused on continuing education in retirement. We invite all to be a part of
Bay College.
In 2012, Bay College facilities in Delta County were used by business and professional organizations nearly 12,000 hours. Much of this space was available for meetings and seminars free of charge to non-profit groups in the community. In addition, Bay brings many opportunities to the public, including traveling exhibits such as the recent Smithsonian "The Way We Work" exhibit. Step on campus and share the experience! The Joseph Heirman University Center provides the majority of the community space and was funded by the capital millage 20 years ago.
Upcoming Millage Renewal
Bay College is seeking support for a millage renewal on November 5, 2013. The millage renewal funds provide $1M per year for capital improvement projects to excel and expand education. The key focus for the upcoming Bay College Millage Renewal is to modernize and expand our technical programs and provide space to better serve students requiring academic support. The welding program desperately needs new ventilation and modernized equipment to better train welders and meet the industry demands.
Arts at Bay are an integral part of everyday life 
Five years ago, the John and Melissa Besse Center, funded by a major gift from the Besse Foundation, opened. The Center houses a theater any college would be proud to have, as well as a wrap-around art gallery that can accommodate just about any exhibit. The outstanding architecture is a piece of art in itself, as are other campus buildings. Integrated into the campus environment, students, faculty, staff, visitors, playgoers, concert lovers, conferees, and administrators enter the doors of Bay College and are immediately in the presence of art. It is also a walk-through for most college foot traffic, a sojourn to classes, the library, parking lots, or Café Bay.
Gallery exhibits feature the region's best individual artists, various galas, traveling exhibits from state and federal organizations, and the work of advanced art students, art faculty, and several amalgams of work appropriate to a particular academic discipline. The permanent art collection at Bay is composed of student works, local artists, and dealer gifts, and is supported by generous endowments for the arts given by Lawrence Hartwig, Betsy Addison and more.
The Besse Center Theatre features outstanding performances, such as chamber concerts, student musicals and drama, plays, performers, a film series, lectures and more. Administration, faculty, staff, donors and event goers, are committed to keeping the arts alive and robust. Art works its magic directly and indirectly as one of the three As– Academics, Arts, and Athletics—that enrich the college environment and student experience.
Private Gifts Foster Greatness
Every day educators dream of enhancing the educational experience to heighten learning. Tuition, fees, taxpayer, and base government funding alone cannot provide all of the educational opportunities to meet teaching, employer, and community demands. Private gifts foster such greatness. Bay College and the Bay College Foundation thank community members, businesses, foundations, families, and organizations alike which help support Bay College student scholarships, projects, and programs that open opportunities to further advance education.
One key area is scholarship support. Some students could not attend college without such support. Scholarships are typically created from annual gifts to the college – endowment gifts which live forever in perpetuity with the returns being awarded as scholarships, and/or bequests through wills and trusts designated to Bay College. Stock, equities, and IRA/retirement distribution gifts are also popular forms of supporting and investing in education.
In addition to the Besse Center, the John & Melissa Besse Foundation has funded other opportunities for the community on campus. A recreation complex was added to campus in 2010, which includes walking trails, a labyrinth and official size soccer fields. This is currently being expanded to accommodate the growing soccer program in our community.
Other key projects funded from gifts to the Bay College Foundation over the last years include new anatomical teaching models, interactive television smart classrooms for multi-campus course offerings, student study space, sustainable landscapes and much more. Gifts to Bay College are accepted via the Foundation Office, [email protected] or phone 906.217.1700.