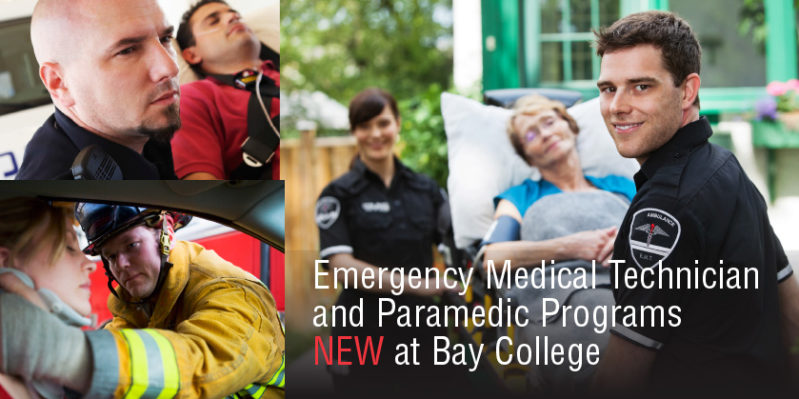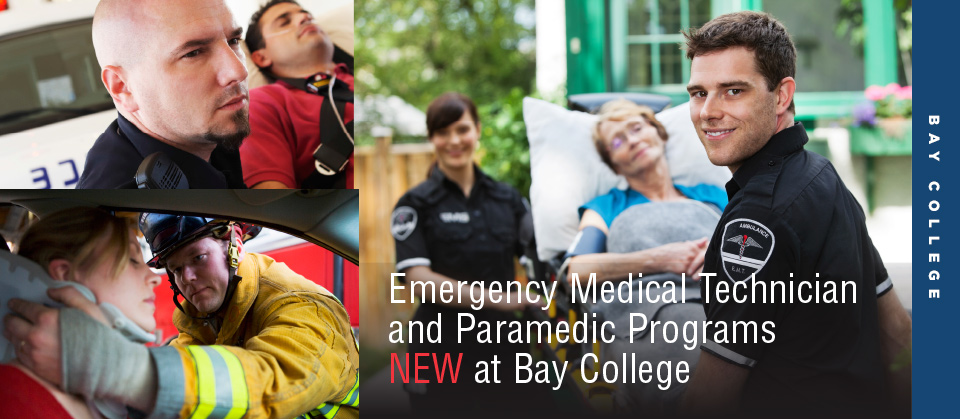 Bay College has announced its commitment to offer an Emergency Medical Technician-Basic (EMT) Certificate Program and an Associate of Applied Science Degree program in Paramedics beginning fall 2015. Students interested in the programs have the option of completing the required general education courses in the fall of 2014 and the winter semester of 2015.
The Paramedic program will be a 69 credit Associate of Applied Science degree ladder program where Part 1 is a 30 credit EMT-Basic certificate program and Part 2 is a 39 credit Paramedic completion program.
EMT Certificate Program 
The goal of the EMT Certificate Program is to prepare graduates to demonstrate entry level competence in delivering safe care to patients on accident scenes and on transport by ambulance to the hospital under medical directions. The EMT has the emergency skills to assess a patient's condition and manage respiratory, cardiac, trauma and many medical emergencies. To assist the student in reaching this goal, Bay College's EMT Certificate Program will combine general education with program specific lecture, lab and clinical courses. Upon successful completion of the certificate program, state licensing is performed through the State of Michigan Department of Community Health Division of Emergency Medical Services. A written exam is offered by the National Registry of EMT's and must be taken for licensure. Students will have the option of exiting the program after completing Part 1 if they wish to gain experience in the field as EMT's
Associate of Applied Science Paramedic Program 
The Associate of Applied Science Paramedic Program will prepare graduates to demonstrate competent entry–level skills as Emergency Medical Technician-Paramedics. A Paramedic is a highly skilled and knowledgeable health care professional who helps to stabilize or revive a patient as he/she is being transported to an emergency room. The Paramedic is the leader of the pre-hospital team and directs the care delivered by Basic EMTs and First Responders. Bay College's Paramedic Program will combine general education with program specific lecture, lab and clinical/field courses. The first two semesters of the program will incorporate the Basic Emergency Medical Technician certificate. Students must obtain an EMT license prior to taking the 200 level Paramedic (PMED) courses. Graduates of the Paramedic Program will be prepared to take the National Registry Exam for Paramedics. Passing this exam is required prior to the graduate obtaining a Michigan License to practice as a Paramedic.
The Paramedic program will be designed to ensure that the curriculum and the credentials of the administrators/faculty comply with the standards established for accreditation of Paramedic Programs by the Commission on Accreditation of Allied Health Education Programs (CAAHEP) and by the Committee on Accreditation of Educational Programs for Emergency Medical Services Professional (CoAEMSP).
Skills Needed
EMT's and Paramedics are required to have physical and emotional strength and stamina, as well as skills in interpersonal relationships, effective communication and critical thinking.
Employment and Wage Predictions
Currently there are approximately 226,500 EMT/Paramedics jobs in the nation. According to the Bureau of Labor Statistics/Occupational Outlook, employment of Paramedics is expected to grow 20-35% percent through 2020. http://www.bls.gov/ooh/healthcare/emts-and-paramedics.htm The median annual wage of EMT's is $30,000 and paramedics is $40,050. It is anticipated that the aging "baby-boomer" population will spur the increase in medical emergencies outside of the inpatient health care facilities. This population added to the decreasing use of inpatient care settings will increase the demand for full-time paid paramedics rather than volunteers.
EMT- Basic Certificate and AAS Paramedic Program
First Semester (Fall ) Credits/Contact Hours
Credits/Contact Hours
BIOL 104
Human Biology
4/5
ENGL 101
Rhetoric and Composition
3/3
EMT 110
Basic EMT I
Taken concurrently during the first 12 weeks
4/4
EMT 120
Basic EMT II
2/4
EMT 130
Ambulance Driving
Taken concurrently during the last 4 weeks
1/2
EMT 140
Rescue/Extr./Dang. Sit.
2/3
SEMESTER TOTAL
16/21
Second Semester (Winter )
Credits/Contact Hours
COMM103
Interpersonal Communications
3/3
PSYC 101
Introduction to Psychology
3/3
EMT 150
Basic EMT III
4/4
EMT 160
Basic EMT IV
2/4
EMT 170
EMT Clinic
2/6
SEMESTER TOTAL
14/20
Note: Must obtain EMT license prior to taking PMED courses
Third Semester (Fall)
Credits/Contact Hours
PMED 210
Med Trauma I
5/5
PMED 220
Cardiology I
2/2
PMED 230
Paramedic Pharmacology I
2/2
PMED 240
Paramedic Skills I
2/6
PMED 250
Paramedic Clinical I
2/6
XXXX-xxx
Select one of the following:

ANTH -201, PHIL-230, PSYC-280, PSYC 220, SOCY-103, SOCY-151, SOCY-206, SOCY-207 or SOCY-208

3/3
SEMESTER TOTAL
16/24
Fourth Semester (Winter)
Credits/Contact Hours
PMED 215
Med Trauma II
5/7
PMED 225
Cardiology II
2/2
PMED 235
Paramedic Pharmacology II
2/2
PMED 245
Paramedic Skills II
2/6
PMED 255
Paramedic Clinical II
2/6
HLTH 280
Advanced Cardiac Life Support
1/1
HLTH 281
International Trauma Life Support
1/1
HLTH 282
Pediatric Advanced Life Support
1/1
SEMESTER TOTAL
16/26
Fifth Semester (Summer)
Credits/Contact Hours
PMED 211
Paramedic Internship (*Internship hours = 40 hours/credit = total 7 credits =280 hours)
7/7*
Note that Part 1 (EMT- Basic) and Part 2 (Paramedic Completion) courses will be offered concurrently starting Fall 2015. Licensed EMT's who have completed Part 1 General Education courses may apply for acceptance into Part 2 of the program in the Fall of 2015, The EMT/Paramedic Program is a selective admission program. Students interested in the program may obtain information regarding the admission/application process by contacting 906-217-4073. In addition to the selective admission process, students considered for the program must comply with the following
• Prior to being accepted into the EMT Certificate/Paramedic program, the student must meet the "E", "M", and the "R" via Compass or ACT scores. For more information, refer to the Assessment Placement Guidelines in the 2014-15 college catalog.
• All students accepted into the EMT Certificate/Paramedic program are required to have liability insurance which is arranged by the college.
• Prior to program entrance, the Division of Allied Health and Wellness requires students to successfully pass a National Wants and Warrants criminal background check and a zero tolerance drug screening test.
• Other requirements include obtaining AHA CPR for the Health Care Provider certification and having our Certification of Physical Fitness form completed by a physician.
• Prior to the start of the program, students must also have proof that they are immunized for specific contagious diseases.
• Clinical facilities may have additional requirements which a student would also need to meet.
• The Division of Allied Health and Wellness orders the background check, drug screen and immunization tracker through www.certifiedbackground.com. The Certified Background Package is billed with the student's first semester's tuition.