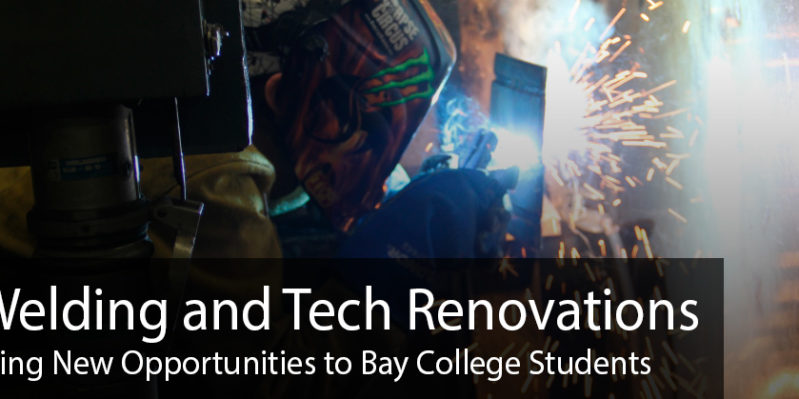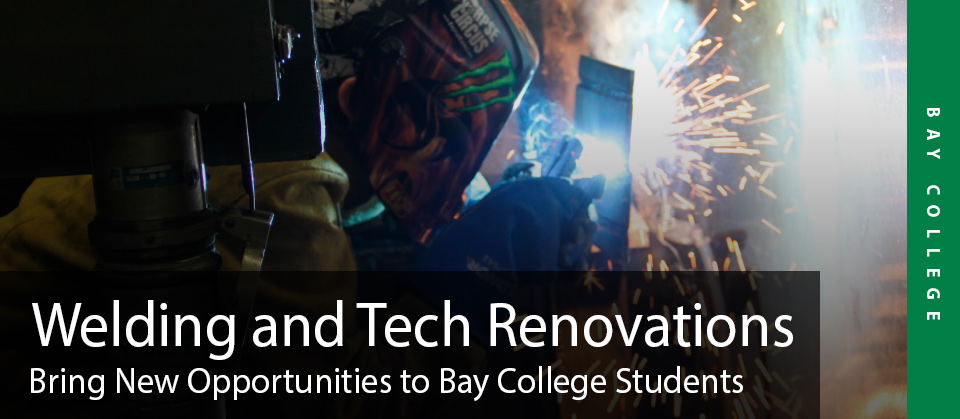 Welding and Tech Renovations Bring New Opportunities to Bay College Students
Bay College's technology programs and facilities will be getting a facelift during the summer of 2015, leading to some exciting new educational opportunities for students.
First, in order to meet the burgeoning student and employer demand for welding, Bay College will be doubling the size of its welding facility. Renovations will improve the existing lab space, while a second lab and classroom of equal dimensions will be added to the current facility. These expansions will not only allow for the number of welding students Bay College can accept to essentially double, but will also create space for a dedicated grinding room, the addition of two robotic welding units, greater storage of supplies and welding gear, and the addition of welding simulators to provide students with added opportunities for practice and learning. These simulators feature a welding helmet that students can wear, complete with a built-in screen. Students can then select a scenario, such as a type of welding style or material, that they must successfully complete by moving an electronic welding rod as they would in real life. The computer tracks their movement, modifies the quality of their weld on-screen according to their movements, and gives them a score based on their performance! These and other pieces of equipment needed to stock the new facilities will be provided by grants the college has received. The first cohort of students utilizing the new lab space will begin in fall semester, with more being accepted in January 2016.
Students interested in any of these degree programs should contact an admissions representative at 1-800-221-2001 or by visiting www.baycollege.edu. Enrollment is open now!
Students will also benefit from renovated facilities in some of the other technology programs, including Water Resource Management and Computer Networking Systems and Security.  Many of the Water Resource Management program courses will be moved into a dedicated room capable of both lecture and labs. The new space will include a room for gas chlorination training, meter testing stations, student workbenches, improved storage, and an integrated instructional classroom with reconfigurable desks for group work. In order to make this program more accessible to geographically distant students, the room will also be outfitted with cameras and microphones capable of recording lectures and labs, even broadcasting them live to students attending from across the country.
Computer Networking Systems and Security students will also benefit from renovated facilities. Infrastructural upgrades will allow for better use of virtualization technologies and greatly improve the speed and reliability of bandwidth-heavy applications and activities. A dedicated server room will also be added, as well as video capture equipment that can be used to record lectures and deliver them via the Internet to online students or those at the Iron Mountain West Campus. In addition to these upgrades, the entrance to the Health and Applied Technology Center (HATC) will receive a new look, while the interior will feature a brighter and more open appearance, a new student lounge area, and a new conference room.