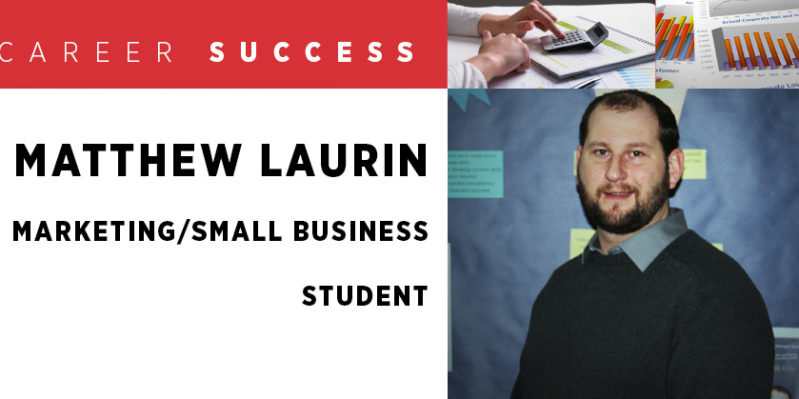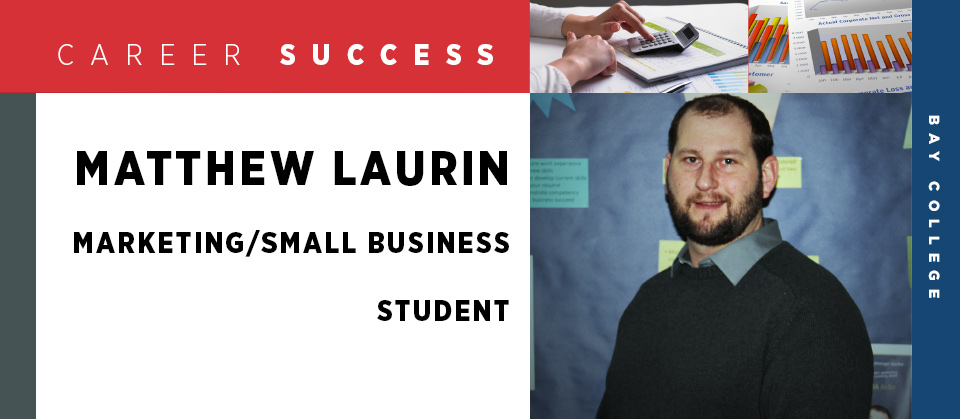 I am Matthew Laurin, a student in the final semester of my AAS degree for Marketing/Small Business here at Bay De Noc Community College.
When I first started my education at Bay College, I anticipated a long road of pain and agony. The wonderful staff here have opened my mind and filled it with knowledge and ideas that I never imagined possible. Although with experiences as an Army veteran and a father of five, I have matured greatly because of my experiences here at Bay. I found a fondness for subjects that I previously couldn't have cared less for; I also learned how much more I needed to learn, and how much more I wanted to learn. One of my instructors stated, "College doesn't just teach you what you need to know, it teaches you how to learn." I don't have all the answers, but I have much better questions.
At first College was intimidating. Was I intelligent enough or young enough to learn so much new information? My fears were completely squashed within the first few weeks of class
I grew up in Carney, where I graduated high school by the skin of my teeth. Luckily I was intelligent enough to know the road that I was on was a dead end street, thus I joined the Army. By age 21, I had been married, divorced and traveled to more countries then most people visit in a lifetime. Ten years of military service was covered with tremendous ups and downs.
As a Green Beret I was deep in the throes of war, where fast paced adventure was mixed with tears of mourning for the loss of good friends. I found strength and direction in a close friend who became my second and current wife. With financial security and my physical condition deteriorating, we made the decision to leave the military and move back to my home town of Carney, MI.
My wife and I explored employment and retirement options. I wanted to be at home and not away from my family, like I was in the military. We came upon the idea to raise meat goats. We had no idea how to run a business or a farm, so we looked to the VA's programs for answers.
Through discussions with my VA rep, I decided to enroll at Bay College. Bay was the obvious choice for me. It was the shortest distance away, had the right classes to fit my needs, and was financially the best choice for an education on a budget. The Associate degree in Small Business/Marketing was the best fit for me. It provided a good mix of management, accounting, and marketing knowledge for starting any new business.
At first College was intimidating. Was I intelligent enough or young enough to learn so much new information? My fears were completely squashed within the first few weeks of class. My professors brought a vast array of real work experience and knowledge to the classroom. I have had fourteen different professors, each one of them bringing different teaching methods and experiences to share. Validation is given to what an instructor is saying when they can relate the topic directly to their own past experiences.
I am now finding validation of my own through a paid internship at EAS, Inc. (Environmental Air Solutions). I applied for the internship at www.internships.com. The next day I received a phone call and obtained an interview. During my internship I have made 130 contacts with over sixty companies. I feel fortunate to have been able to build on my knowledge from my business classes in a real world setting.
In conclusion, my views, beliefs, and plans have all changed since I first walked into Bay College over two years ago. I am confident that I can achieve business success in today's marketplace. I believe my experiences here at Bay have prepared me for today's business world. I am also using what I have learned to help my wife set up a photography business.
I am continuing on with my education through LSSU to obtain a Bachelor's Degree in Business Administration. For now I will continue to work at EAS, Inc. until I am done with my schooling. After that, I do not know what lies ahead for me, but I feel confident that I will be ready for it. I encourage students to look into the benefits of participating in an internship with Bay College. I also encourage local businesses to contact Bay about offering more internship possibilities for students.