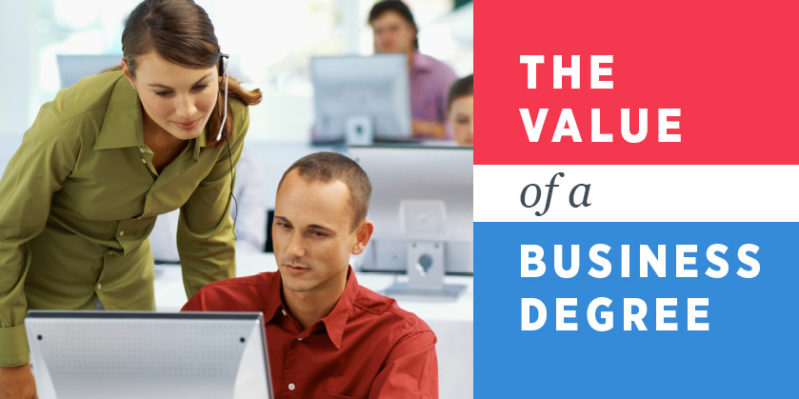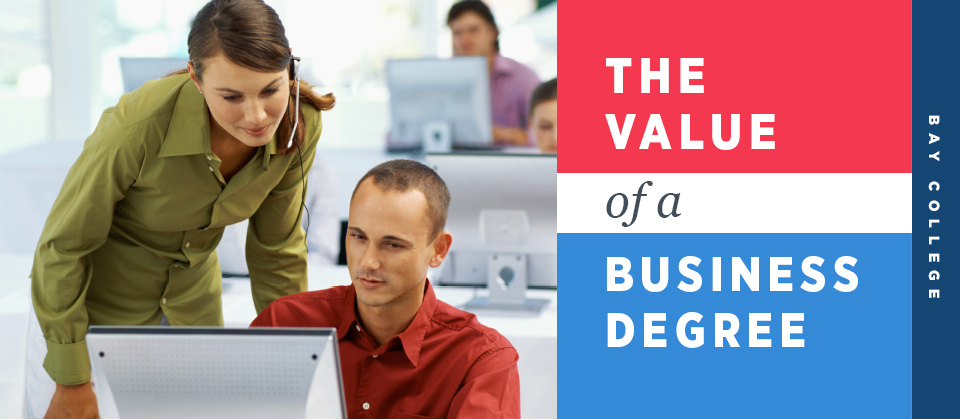 The value of a business degree is equated to the effort put into it. No effort = no value. A lot of effort = a lot of value. What's your value?
Business Students Job Outlook
"The Job Outlook for the College Class of 2013" report from the National Association of Colleges and Employers (NACE) states, "New grads with business, engineering and computer science degrees are the most sought after at the bachelors and master's degree levels."
The List of Top Degrees Sought By Employers
The NACE survey was conducted between July and September of 2011 and included responses from 244 businesses. According to the report, jobs related to business, engineering and computer science dominated the list of most in-demand degrees. The list:
Finance
Computer and Information Science
Accounting
Business Administration/Management
Mechanical Engineering
Management Information Systems
Electrical Engineering
Computer Engineering
Marketing/Marketing Management
Economics
Business Degrees Dominate the Top 10
The NACE report places business degrees at the forefront of the most in-demand degrees. Half of the top 10 listed are business-related:
Finance. A degree in finance prepares professionals for a number of jobs. Some work in the finance offices of major corporations, while others work providing financial advice to individuals. Many who earn an Bachelors in finance go on to get a Master's of Business Administration (MBA).
Accounting. After earning a bachelor's degree, accountants typically become Certified Public Accountants (CPAs) and work for individuals or in the finance department of companies, ensuring all financial records are accurate and all taxes are paid.
Business Administration. Those who earn a bachelor's degree in business administration are preparing themselves for a leadership role within a business operation. Many move on to attain a Master's in Business Administration.
Marketing. Marketers generate interest in a product and find the most effective channels for reaching the target audience. A marketing degree prepares you for an entry-level position in a marketing department, working with other teams such as creative, sales and finance.
Economics. A degree in economics prepares you to take on a job studying the production and distribution of money and resources within an economy. More than half of all economists work for local, state or federal governments.

Do you have what it takes to secure gainful employment?
Although the NACE report sounds promising for business graduates, the down side to the preceding list is that not all business students will make it to gainful employment. The business field is exceptionally competitive, and unless a business graduate can separate themselves from the rest of the pack by demonstrating to their prospective employer that they have what it takes to add value, they will be living at home with their parents for an extended period of time and will be underemployed or not employed at all.
What value do you possess?
Most top business students possess critical thinking skills, finance skills, project management skills, excellent oral and written communication skills, interpersonal skills, leadership skills, and technical skills in their various disciplines. Unfortunately, not all business students and business graduates possess the aforementioned skill sets.
What value do you possess? What skill sets have you honed that will set you apart from all of the other job applicants? Even as the economy shows signs of recovery, the job market remains fiercely competitive across practically all industries, particularly for entry-level positions. It's in these entry-level positions that most business graduates will enter. Factor in the rapid rate of technological evolution and its impact on the global marketplace, and it's clear that today's college students are wise to invest in versatile degrees that will allow them to innovate and adapt at the pace of business today and into the future.
What degree path do you choose?
A degree in business management is arguably the most versatile of them all. Business Management, a broad field of study that covers everything from marketing and information systems to leadership and human resources, owes much of its value to that same breadth. Business students acquire knowledge and essential competencies in all foundational areas of modern business, across all industries and their subsectors. The principles of accounting apply no differently to the books of a small, family-run restaurant than to those of a large, multinational corporation; information systems function precisely the same way whether they're located in the basement of a fledgling nonprofit or the front office of a real estate tycoon.
Likewise, the leadership skills that students gain from coursework in business management transcend any specific field or workplace. Business management degree programs emphasize communication skills, team-building ability, conflict resolution and critical thinking skills—all pillars of effective leadership—and prepare students to rise through the ranks of whichever employment sector they choose. Rather than confine themselves to a certain profession or industry, business management students render themselves attractive to employers of all kinds.
Some of the most common professional titles open to business management degree holders exist across industries. Supervisors, shift managers, assistant managers, project managers, directors of operations, directors of finance and so forth are ubiquitous positions in fields ranging from healthcare to home construction. These skilled professionals manage one or more of the three bedrock components of every successful business: people, processes, and profits.

How does Bay College ensure that courses match employer needs?
Every occupational program at Bay College has an Advisory Board comprised of business and industry professionals along with college business faculty. The Advisory Boards meet annually to discuss industry and employment trends. It's through these discussions that the occupational programs at Bay College are formed.
One such discussion led to the restructuring of the Small Business/Marketing Associates in Applied Science degree. Based on that discussion, it's anticipated that in the Fall 2014 semester, Bay College will offer a revised Associates in Applied Science degree in Marketing. Some of the suggested course content changes were in the areas of social media, communications, and computer graphics.
Here's a preview look at that proposed degree:
Marketing – NEW for FALL 2014 is a revised Associate in Applied Science in Marketing degree program. The two year Marketing occupational program is designed to enable students to gain entry-level employment in a variety of marketing related fields. The program covers the basic working knowledge of general marketing theories and practices, the use of current technology appropriate to marketing operations, and the ability to communicate effectively in a marketing environment. New course development for Advertising/Social Media is underway.
Marketing AAS Degree Program 
Suggested Sequences Per Semester
First Semester
BUSN-160
Introduction to Business
3/3 Cr/Ct
BUSN-177
Mathematics of Business
3/3
CIS-101
Computer Concepts & Apps
4/4
ENGL-101
Rhetoric & Composition
4/4
14/14
Second Semester
ACCT-100
Practical Accounting -OR-
4/4
ACCT-101
Accounting Principles I
4/4
BUSN-253
Marketing
3/3
COMM-104
Public Speaking
4/4
ECON-132
Microeconomics
3/3
ENGL-102
Research Writing OR
2/2
ENGL-145
Technical Report Writing
3/3
17/17
Third Semester
ARTS-118
Intro. to Graphic Comm.
4/4
BUSN-242
Principles of Management
3/3
BUSN-195
Business Communications
3/3
BUSN-262
Principles of Selling
3/3
CIS-121
Microsoft Excel
1/1
14/14
Fourth Semester
BUSN-???
Advertising/Social Media
3/3
COMM-201
Mass. Communications
4/4
PSYC-201
Intro. To Psychology OR
4/4
SOCY-151
Sociology
4/4
XXXX-xxx
Business Electives OR Co-op**
6-7
17/17
Bay College also offers the following degree paths that students can embark on:
Business Administration – The Associates in Arts in Business Administration is a two-year degree designed for students who wish to transfer to a four-year college or university and major in the business fields of Accounting, Business Administration, Management, Marketing, Human Resources, etc.
Business – The Associate in Applied Science in Business is a two-year degree program designed to enable students to gain entry-level employment in business-related fields. This two-year program covers basic working knowledge of general business theory and practice, the use of current technology appropriate to business operations, and the ability to communicate effectively within a business environment.
Bridging the gap between the academia world and the employment world?
Internships
Bridging the theories, vocabulary, and classroom experiences with the real world can be strengthened through the proper use of internships. Internships are a great way for students to close the gap between the academic world and the real working world.
Internships also allow students to develop new skills, build resumes and create networking opportunities. Additionally, a recent study published by the National Association of Colleges and Employers (NACE) suggests that many employers later hire their interns full time, making internships an excellent way to start a new career.
A 2009 NACE survey of U.S. employers with interns found that 67% of those interns were given job offers after their terms were complete.
What is an Internship?
An internship is any official or formal program to provide practical experience for beginners in an occupation or profession.
The modern concept of internships essentially springs from the medieval apprenticeship, in which skilled laborers (often craftsmen) would teach a young person their trade and, in exchange, that person would agree to work for the teacher for a certain length of time.
The main difference between an apprenticeship and an internship is that internships are more exploratory. You're not bound to work for your employer after the internship is over (although many interns do receive job offers). If you start early enough to do a few internships throughout college, you can use the early ones to get a feel for what career you'd like to pursue, and the later ones to build your experience.