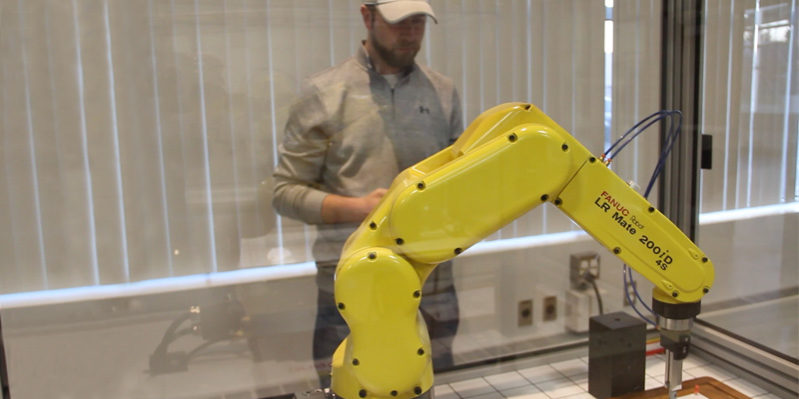 In a few short years, economic developers have seen advanced manufacturing go from a niche within traditional manufacturing to the standard for just about anything that gets made in America today.
Advanced manufacturing is growing in the United States. The US Bureau of Labor Statistics is projecting 875,000 job openings in US manufacturing. But these jobs will require more training and skills than factory and machining jobs of the past due to advancement in technology, and will include machinists, welders, technicians, industrial mechanics and industrial engineers.
Skills get an upgrade
Workers with a background in manufacturing may need to upgrade their skills to work at a new employer, or if their current employer adds new equipment or product lines.
"Mechanical and electrical equipment is more interconnected than ever before," said Mark Highum, Division Chair and Mechatronics faculty at Bay College. "Having an understanding of how these technologies work both independently and together is the key to the field of mechatronics."
Investing in people
Research by the US Bureau of Labor Statistics estimates that thousands of jobs for machinists, machine tool operators, welders and maintenance workers will be created in the coming years. However, a Deloitte study estimated that while 3.4 million US manufacturing jobs will be created between 2015-25, as many as 2 million of those jobs could go unfilled due to a lack of sufficiently trained workers.
A 2016 National Economic Council report stated that manufacturing wages were 20 percent higher than the national median income. A BLS study found that manufacturers pay higher wages than other industries for similar jobs such as maintenance and repair technicians.
Bay College's mechatronics technology program prepares students to work as a technician in an advanced manufacturing environment in as few as 9 months. Bay College has agreements with Lake Superior State University (LSSU) and Michigan Technological University (MTU), allowing students who earn an Associate in Applied Science in Mechatronics and Robotic Systems at Bay during the first two years, then transfer into a Bachelor of Science in Electrical Engineering Technology or Robotics at the four-year institution.
The partnership solves two problems in the region. First, this degree pathway will provide qualified graduates in the area of mechatronics and robotic systems to a variety of industries that often struggle to find employees with the skill sets they require. The second is that prospective students living in the southern UP now have a way to get started on a four year degree at Bay College without immediately traveling to Houghton or the Sault.
Bay College is also a Educational Certified Training Institution for FANUC America's Certified Education Robotics Training (CERT) program, providing training opportunities for local manufacturers.