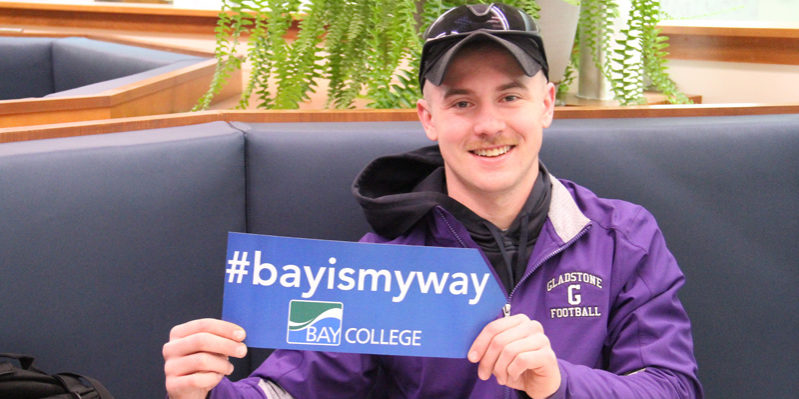 The HUB (Helping U @ Bay) and Student Success Center on West Campus are central student zones on campus containing the resources you need to succeed at Bay College and beyond.
Tutoring
Bay offers individual and group tutoring for FREE. Nationally, up to 80% of all college students receive tutoring! You may also want to become a tutor, working to help others while being paid for your efforts.
Supplemental Instruction (SI)
Several courses have supplemental instruction sessions to help you develop successful study skills, solve practice problems, obtain group support, and study for exams. SI helps boost student success and grades in traditionally challenging courses.
Career Success Coaching
Unsure what you want to major in or what career is in your future? Access a career coach to help you discover your strengths and get on a career path to success. Bay also offers Career Closets providing work-wear and interview apparel on both campuses.
TRiO
This Federal Grant program offers support for low income, first-generation college students, and students with disabilities. TRiO offers many great tutoring, life-skills, financial, leadership, and cultural opportunities. Visits to potential transfer schools also are offered. Get involved!
Accommodations
The Office of Accessibility (OOA) is the first stop for information and assistance to support self-identified students with disabilities. The office strives to ensure that programs and services of the college are accessible to all individuals.
Counseling
Confidential services are available at no cost for enrolled students.
Zero Cost Textbooks
Save big. In addition to affordable tuition, Bay College strives to make your higher education even more affordable with FREE or low cost online books and open educational resources (OERs).
Library (Escanaba)
The Bay College Library contains physical and online resources to enhance and expand learning, computers, DVDs, group space, and quiet nooks to study. Check out the extensive vinyl record collection and seed library.
Study Zones
There are many casual spaces on campus for individual and groups to study or hang out. Study spaces are located in the Besse Health & Technology, University Center, Math-Science corridors, HUB, Besse Center, Student Center Café and West Campus Lower Commons. Private study rooms in the HUB and West Upper Commons are available to reserve.
Computers on Campus
Computers and printers are available across campus, with central locations in the HUB, Bay West, and the University Center. Technical support is available to help resolve computer difficulties.
Testing Center
Services are available for placement, academic, proctoring, and certification testing. Many tests require an appointment so plan accordingly.
Get Fit, Stay Well & Be Safe
Students enrolled in 6 credits or more have free access to the Delta and Dickinson Northern Lights YMCAs with their Student ID. Bay also offers sports, music rooms, walking trails, soccer fields, labyrinth, a food pantry, and more. The Delta YMCA also offers childcare while attending class.