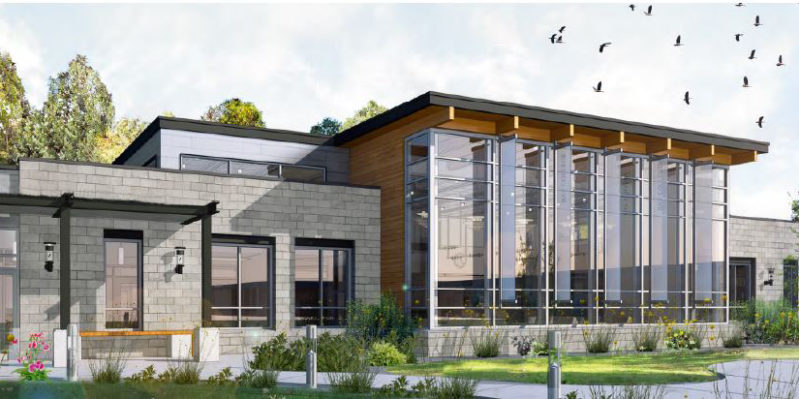 By Jill Martin with Contributions by Kathryn Capodilupo
This fall, Bay College will open a newly remodeled space where students can obtain all their academic and support services in one centralized area: the HUB!  Currently, the various services are spread throughout campus. Creating one area where students can go to fulfill their academic support needs will make it easier for them to get the help they need – when they need it.
Included in the new space will be the Office of Accessibility, Library, TRiO Student Support Services, Academic Coaching, tutoring for all courses, Supplemental Instruction, Online support, and Academic Testing.  There will also be more space for students to participate in tutoring and group study, collaborative technology pods, informal quiet study rooms, quiet testing rooms, computer stations, and guest offices for support services such as transfer university visits, tax prep services, and career counseling.
The Office of Accessibility will provide an environment that meets the accommodation requests of students for space that provides little distraction. There will be assistive technology support tools and devices on-hand for alternative access to course content.  Having these resources will allow students to study and learn in ways that work for them, giving them a better chance to achieve academic success.
The HUB will also be home to a new space for the TRiO Student Support Services (SSS) program. TRiO supports students who are the first generation in their family to attend college, meet certain income criteria and/or have a disability.  The program is designed to mentor and coach students through their college experience and includes academic planning and tutoring.  The program also supports students with career exploration, transfer assistance, resume and job searches, scholarship and grant aid, FAFSA assistance, financial literacy, cultural and 4 year college visits, and leadership and service learning involvement.
Also part of the HUB will be the Academic Success Coaching program, which uses faculty to work with students on finding their motivation, career vision, and personal success in their college experience.  Students can use this program for guidance and coaching as they journey through their academic program. This coaching program can immensely help those students who need additional mentoring and support during their time at Bay, and it could be invaluable in helping them persist in college and eventually, completing their college degree.
All of the college academic tutoring programs will be relocated to the new HUB, including one-on-one scheduled tutoring, walk-in tutoring, and group facilitated tutoring.  The success of the Math-Science Center, where students could go for assistance in math/science/technology, drove the need for this inclusive space. Students will find encouraging, engaging tutors who can assist in their more challenging coursework, giving them a chance to learn and grow outside of the actual classroom and gain a better understanding of material.
The Supplemental Instruction (SI) program and staff offices will be relocated to the new HUB too. The SI program is designed to provide additional classroom support to the traditionally difficult courses with group SI sessions scheduled as part of the course.  Trained SI Leaders who are competent in the content and who work closely with the faculty deliver additional methods and strategies to students, giving them an opportunity to work on the material outside class. SI, especially in the more challenging courses, is proven to help students raise their grades and succeed. Students welcome the chance to practice, learn, and get more explanation on a subject – without the fear of a mistake hurting their grade.
The Online Learning and Instructional Technology support at the college assists faculty with course design and helps students navigate online delivery of courses. Also found in this area will be a lecture capture studio to provide high quality video for online course content. It will give students a chance to produce class projects, portfolios, and homework assignments in video format.  This removes the large burden of students needing to purchase or seek out their own equipment and software, and they can receive professional help on how to best-use the capture studio to fit their needs.
The new space will also provide an academic testing area with 28 seats.  It will be designed with security for proctored testing and will allow students to schedule a seat online to ensure there will be efficient use of the testing space during the busy times of the semester.  The demand for testing outside the classroom is increasingly growing, so students will enjoy the convenience and accessibility of this new area that gives them more flexibility.
The HUB, located in the center of campus, is sure to be a one-stop-shop for student success! With upgraded furnishings, cutting-edge technology, comfortable spaces, and a friendly staff ready to assist, students won't need to go far to find what they're looking for to help them achieve their goals.  This new space puts students at the center of educational engagement outside the classroom, helping them to learn and grow so they can accomplish their ultimate goal of obtaining a degree or certificate from Bay College and get on the path to a successful career.