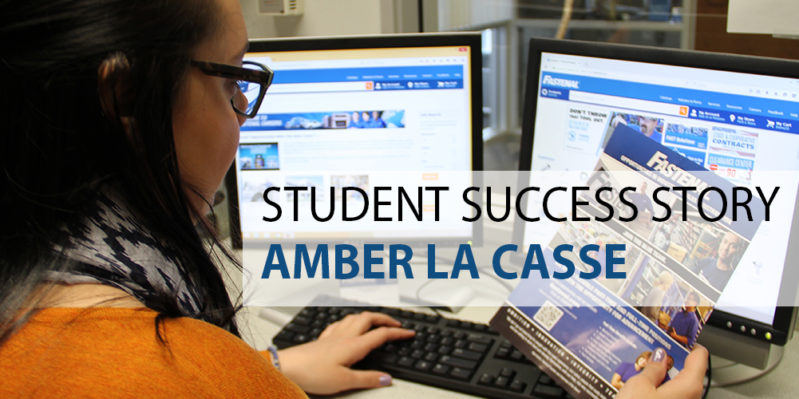 Amber La Casse, an Escanaba, MI native, began her journey at Bay College in fall of 2013. She graduated in spring 2016 with two Associate in Applied Science Degrees in both Marketing and Business, along with a Certificate in Entrepreneurial Small Business.
Before graduation, Amber got a job offer to work with Fastenal, the largest fastener distributor in North America. She made the big move to work in the Green Bay, WI, location where she began her new career in Sales Support. Amber now helps customers on the sales floor, sets different displays, and creates orders for the company. She even goes as far as to put orders together, picking up parts and preparing them to be shipped nation-wide. Amber credits her success in business to her experience at
Bay College:
"Bay helped me succeed by guiding me in the right direction and offering any help they could with any problems I had," she said. "In the future, I'd like to get into more marketing with Fastenal, continue to gain knowledge, and just keep climbing the corporate ladder."
Amber gained the skills and knowledge she needed to be successful in the business world at Bay College. Thanks to her education and skill-sets, she found immediate employment and is already in an exciting job with a large, successful company!