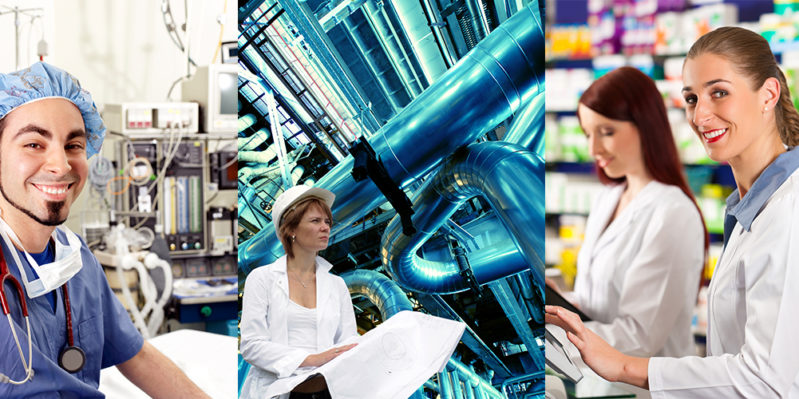 If you have a degree in a STEM field, there are countless opportunities for high-demand, high paying careers! There is an explosive need for skilled individuals in STEM areas who can research, analyze information, solve problems, improve health, design products, advance technology, unleash opportunity, and find innovative solutions. STEM graduates are shaping the future with their knowledge and abilities. Bay College can help put you on your path towards a STEM career today!
STEM Degrees at Bay
Associate in Science (AS transfer)
Pre Engineering
Pre Natural Resources
Pre Professional Health
Pre Molecular Biotechnology
General Studies – STEM Concentration
Associate in Art (AA Transfer)
Liberal Arts – STEM Concentration
Beyond Bay
The most sought-after Bachelor's degrees in STEM fields are in engineering (chemical, mechanical, civil, computer, etc.), physics, biology, chemistry, and education. Many graduates also further their education to attain a professional degree in dentistry, medicine, optometry, pharmacy, physical or sports therapy, occupational therapy, and more.
Complete STEM Courses at Bay West Through iTV!
By Britt Slade
Did you know that you can complete the first year of most STEM career pathway degrees on Bay College's West campus with only minimal travel to Escanaba?  Classes like Calculus I and II, Engineering Physics I, Elements of Physics I and II, General Chemistry I and II, Evolution & Diversity, Cells & Molecules, and Astronomy are broadcast live from Escanaba via iTV (interactive television).  Students in iTV classes actively participate as if the instructor is physically in the room and are only required to be in Escanaba for any corresponding labs.  For more details, contact STEM faculty Britt Slade at [email protected].
Blaze New Trails in STEM Careers!
Biologist
Chemist
Physicist
Astronomer
Botanist/Forester
Natural Resources
Environmentalist
Doctor
Dentist
Pharmacist
Athletic Trainer
Physician Assistant
Physical Therapist
Chiropractor
Engineer
Architect
Project Manager
Construction Manager
Surveyor
Programmer
Actuary
Mathematician
Statistician
Data Analyst
Financial Analyst
Teacher
Forensic Scientist
Bay College Partners with MSU College of Medicine for Early Assurance Program
By Dr. Matt Barron,, Executive Dean of Arts, Sciences, and Academic Support
Bay College has recently partnered with the Michigan State University College of Human Medicine to expand the Upper Peninsula Early Assurance Program (EAP).  Undergraduate students can attend Bay College and then transfer to one of its new partners: Michigan State, Northern Michigan University, Lake Superior State University, or Michigan Technological University where they can complete their undergraduate degree.  Once they transfer, they can apply to the MSU College of Human Medicine Early Assurance Program, which provides early assurance of medical school admission.
The MSU College of Human Medicine's mission is to respond to the needs of the medically underserved, so admission to the EAP gives preference to Bay College students who have transferred to one of its partners and who are first generation to attend college, graduated from a low-income high school, are eligible for need-based grants, and express an interest in a high-need medical specialty change to area.
The Early Assurance Program provides an opportunity to pursue medicine for undergraduate students interested in becoming physicians in an underserved region or with underserved populations.  Bay College is thrilled that the community and local students are now able to access this opportunity thanks to its excellent partners in education that worked to help make it possible.  With the start of the EAP, the college hopes to see more students begin their medical careers right here at Bay.
Get On Your Path to an Engineering Degree at Bay College!
By Kathryn Capodilupo with Contributions by Britt Slade & Spencer Slade
When you think of the word "engineer," what comes to mind? How about 'inventor', 'designer', 'builder,' 'innovator,' or 'researcher?' Engineers are all of those things! They are the critical thinkers responsible for building bridges and roads, developing fuel-cell technology for our vehicles, researching cures for types of cancer, and everything in between.
Bay College offers an Associate's in Science degree with a concentration in Pre-Engineering. This degree provides students with a solid foundation to transfer to a 4-year institution to obtain a Bachelor's degree in either Engineering or Engineering Technology. Students will take a variety of math and science courses, including Calculus I-III, Organic Chemistry I and II, Elements of Physics I and II, Engineering Physics I and II, Statistics, Dynamics, Biology I and II, and/or Anatomy and Physiology I and II, along with all general education courses. Students get much more one-on-one attention with class sizes averaging 15-25 students, and the instructors are passionate about teaching. The classes transfer with ease, making the transition to a 4-year university smoother than ever.
A degree in Engineering opens up the door to countless careers in a high-demand field. Specializations including Aerospace, Biomedical, Chemical, Civil, Computer, Electrical, Environmental, Materials Science, Mechanical, Paper Science, and Software Engineering – to name a few. Employers in the Upper Peninsula are always looking for skilled, educated engineers that can help them advance their companies in a number of ways.
If you want to begin your journey towards a career in engineering, Bay College is an excellent place to start…get on your path today!