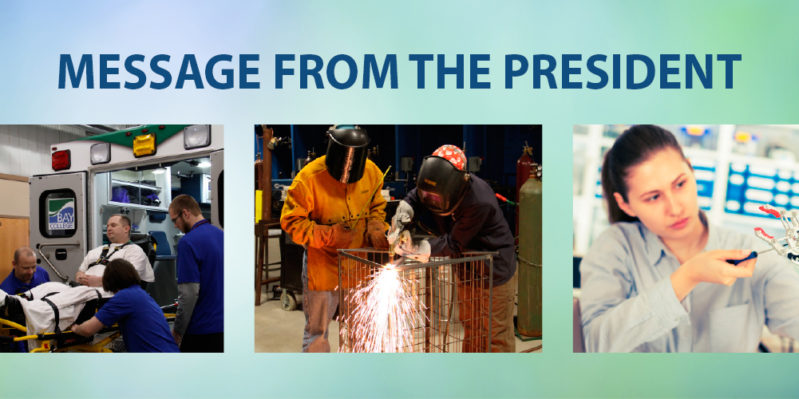 Bay College added 6 new programs to meet the demands of local employers over the past year.  This was made possible by local millage support and multiple grant programs, totaling over $2.2 million for EMT, Paramedic, Welding, Water Resource Management, Mechatronics and Robotics program equipment and training, including a fully functional ambulance, welding simulation and robotic arms.
This year, Bay College is implementing significant changes in our interface with current students, potential students and the community.  Bay College has developed 8 career pathways which will streamline degree paths to attain the job skills you need to succeed in your chosen career or transfer program.  Faculty are also developing program maps which will clarify choices, make developing semester schedules easier, facilitate degree completion in two years for full-time students, and create more personalized maps for part time students.
This summer Bay College is undergoing a major renovation project which will be substantially completed in time for school to start in August.  All academic support services will be at the "HUB": tutoring, supplemental instruction, TRiO services, testing center, library, accommodations, and much more, in one location at the center of campus – making it even easier for students to receive the help needed to succeed.
The faculty, staff and administration at Bay College look forward to seeing you on campus and helping you get on your pathway to career success.  Bay College is your community college — come visit!
Laura L. Coleman, PhD
President, Bay College