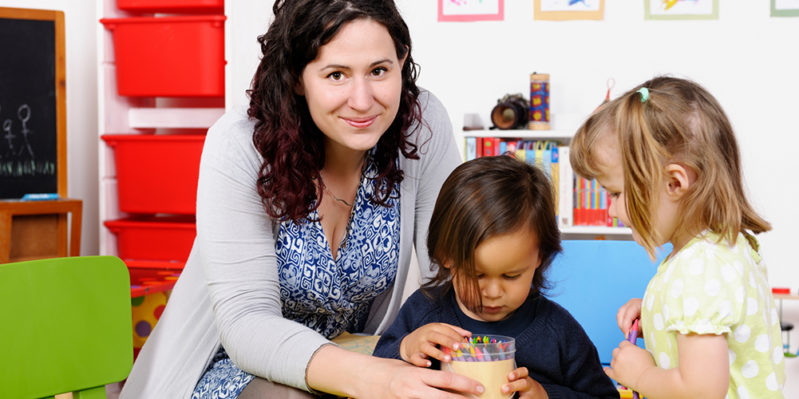 Are you interested in helping children and families? Do you like to assist those in need and serve your community? If so, then a career in Human Service, Social Science, or Education could be for you!  In these careers, you'll dedicate yourself to advancing lives and communities. There are many opportunities in a variety of environments to use your passion for people to improve their quality of life – you may find yourself working with children, adults, veterans, the disabled, the elderly, those with addictions, and more.
The need for understanding and caring individuals to fill these careers is becoming higher than ever. In fact, human services careers are projected to increase 22 percent, going up from 372,700 human services jobs in 2012 to 453,900 by 2022! If you want to make a difference in the world, you can begin your journey at Bay College!
Certificates and Degrees at Bay:
Certificates
Associate in Applied Science (AAS)
Human Services
Early Childhood Care & Education
Associate in Arts (AA transfer)
Liberal Arts
Liberal Arts Online
Beyond Bay
Early Childhood graduates typically work in child care centers, preschools and government run programs while Human Service graduates mainly work as counselors or assistants to Social Workers, aiding in care plans for patients.  Many transfer to a 4-year university to become a social worker.
Students in Education and Social Science programs generally transfer to a 4-year university to attain a Bachelor's degree in areas such as Sociology, History, Geography, Speech Pathology, and Education (Elementary, Secondary, Special Ed.).
Are You a History Buff?
Degrees in history lead to work in a variety of careers fields where you can share your knowledge and expertise with others! Individuals in this field appreciate history – and actively seek to preserve it. You can begin on your path towards a history degree at Bay and seamlessly transfer to a 4 year program, possibly becoming an Archivist, Museum Curator or Director, Cultural Resources Management & Historic Preservation Specialist, Documentary Film Maker, Librarian, Historian, or more!
"Bay College exposed me to the importance of a hands-on approach to education. I always wanted to teach history, but had no idea what that meant until attending Bay. I was granted the opportunity to teach a lesson & really see why I loved the idea of being an educator. These experiences still carry with me as an educator of 10 years" – Grant Murray, Social Studies Department Chair, Antioch Community High School.
Early Childhood Care & Education
at Bay
Bay College offers both a one-year certificate and a two-year Associate in Applied Science Degree in Early Childhood Care & Education. Graduates meet the educational requirements for child care center program directors as required by the Michigan Child Care Center Licensing Regulations.
Graduates of the program will be prepared to work in child care centers, preschool programs, head start programs, family home programs, program administration, and more. They'll understand how to create healthy, challenging environments for children, realize the importance of family and community relationships, and know how to assess a child's development.
Both programs include 90-300 hours of practicum in early childhood settings.  For more information on the Early Childhood Care & Education Program at Bay College, contact Connie Martinsen, Program Coordinator, at [email protected].
Help Others in a Human Service, Social Science, & Education Career
Social Worker
Social Services
Counselor/Therapist
Health Educator
Psychologist
Researcher
Historian
Librarian
Childcare Center Worker
Educator/Teacher
Education Administrator
Government Worker
Religious Worker
Speech Pathologist
Occupational Therapist
Sign Language Specialist
Fitness Professional
Trainer