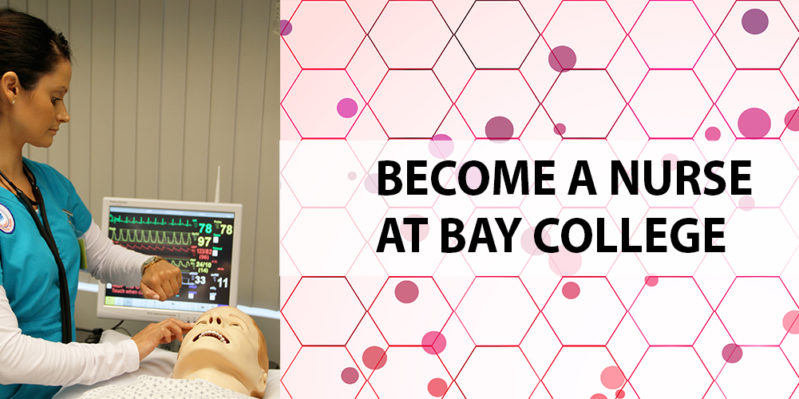 With a healthcare education, you'll enter the fastest growing job market where demand is increasing every day. You'll help improve and enhance the quality of lives, develop special expertise, and most importantly: help and care for people.
In Health Care programs at Bay College, you'll build skills that will help propel you forward in your career and discover where your passions lie in the health care field. You'll think critically, collaborate with students and faculty in clinical settings, gain experience in a cutting-edge simulation lab, and learn what it takes to be a great health care provider.
Health Care Certificates and Degrees Offered at Bay
Certificates
Practical Nurse (LPN)
Emergency Medical Technician (EMT)
Health Careers
Associate in Applied Science (AAS)
Nursing (RN)
Paramedic
Office Information Systems: Medical Office Specialist
Associate in Science (AS transfer)
Beyond Bay
Students who obtain a certificate in Health Careers often enter programs to become Dental Hygienists, X-Ray Techs, Nurses, and more. Graduates of the AAS programs can often obtain immediate employment or continue on to a bachelor's, graduate, or professional program to become doctors, nurse practitioners, dentists, occupational therapists, nurse anesthetists, and more!
Become a Licensed Practical Nurse & Registered Nurse at Bay College!
By Caitlin Capodilupo
Do you have a passion for helping others?  Do you want to make a difference in the world?  If so, then a career in the field of NURSING could be for you! Bay College has a variety of programs including an Associate Degree in Nursing Program (Registered Nurse), a Practical Nurse Certificate (Licensed Practical Nurse) and a Registered Nurse Completion Program (LPN to RN program). Each program is designed to develop critical thinking, collaboration, problem- solving and caregiving skills to promote quality care in a variety of settings. Students have the ability to work closely with faculty and classmates in the classroom, lab and clinical settings. They also have opportunities to practice their skills in a state-of the art simulation center where they get hands on experience that will benefit them in real-world settings.
NURSING IS EXCITING! Today's nurses work in many challenging and dynamic environments—hospitals, home health & public health care agencies, outpatient surgical centers, nursing homes, schools, mental health agencies, major corporations, the military and more!
NURSING PAYS! According to the US Bureau of Labor Statistics, In 2015 the median pay for RNs was $67, 490 ($33.00/hr) while LPNs earned $43,170 ($20.76/hr).
WE NEED MORE NURSES!  The US Bureau of Labor Statistics projects that employment for nurses will grow faster than most occupations through 2018.  The demand for registered nurses is high nationwide, and job placement is near 100%.
The programs offered at Bay College can create a strong foundation for students to pursue their education in nursing and move up the career ladder in the nursing field.
Bay College Leads the Way in Simulation Learning
By Nicole Wagner with Contributions by Kathryn Capodilupo
Over the past two decades, healthcare education programs nation-wide have adopted simulation learning. With increased demands on training hours, limited student-patient encounters, and the need to focus on patient safety, this new delivery of education in healthcare involves futuristic technology and innovative ways to provide a standardized curriculum (SSH, 2016).
At Bay College, simulation learning is included in all of our Health Care programs. There is a state of the art simulation lab at each of our campuses and Bay is even home to a simulation ambulance that can bring simulation to any location!
Simulation learning has many advantages: It provides a range of accessible, customized learning opportunities that are difficult to obtain in real life. Learners practice hands-on skills and use critical thinking, including knowledge-in-action procedures, decision-making, and effective communication techniques. Most importantly, simulation offers the learner the freedom to make a mistake and learn from it in a safe environment without risk to the patient they are caring for. Students receive detailed feedback and evaluation from instructors, which is a critical part of every simulation to target where improvements need to be made.
Healthcare simulation is coming of age, and Bay College is leading the way in the Upper Peninsula. Simulation in our Allied Health Programs provides Bay College graduates an opportunity to gain experience and confidence in their skills to prepare them for the demanding role of a healthcare provider. Begin your Health Care journey today at Bay!