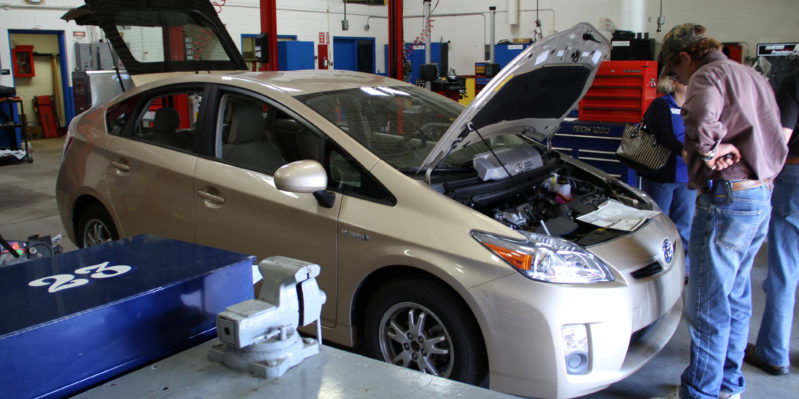 By: Mike Gardner with contributions by Kathryn Capodilupo
In today's world, automotive service technicians who have received formal education at a post-secondary institution have an upper edge in employment. Bay College's Associates in Applied Science Degree in Automotive Technology will help students gain the skills and knowledge they need to not only succeed, but stand out. Bay's Automotive program is NATEF (National Automotive Education Foundation) certified at the highest MAST (Master Automotive Service Technology) level. All three instructors in the program are ASE Master Certified, with two holding advanced certifications. Each has over 30 years of industry and teaching experience, offering students the chance to learn from people who have spent extensive time in the field gaining valuable experience.
Bay College recently acquired 9 new gas and 9 new diesel engines for students to work with while in the program. Students also have the opportunity to get hands-on Hybrid vehicle technology training on a Toyota Prius, giving them added skill-sets. With exposure to all of these engines and technologies throughout the program, students gain a well-rounded knowledge – without paying more.
The need for qualified automotive service technicians is steadily growing, and the Bureau of Labor Statistics project a 5-7% growth rate in the automotive field. Instructor Mike Gardner says:
"This year, I actually had more employers contact me with full-time job opportunities than I had graduates to fill the positions. So, the need is out there locally. My goal is to make sure each and every student graduating with a degree from my program gets a full-time job with benefits."
In 2015, Riverside Auto Group and Gardner partnered up to make college more affordable for students that want to become automotive technicians and give them the chance to earn employment. They developed the Tuition Reimbursement Incentive Program (TRIP) and Tool Incentive Program for students that meet certain qualifying performance standards. The TRIP program was designed to attract and retain technicians while assisting them with their financial needs through college. Students that meet the standards and graduate with the degree in Automotive Technology will have a full-time position at Riverside waiting for them when they are done, which is an amazing opportunity to work locally and begin building experience in the automotive world. Matt Maki, a 2016 graduate of Bay's Automotive Technology program and also the Technology Division's Outstanding Graduate in 2016, is the first recipient of TRIP and is currently working full-time at Riverside Auto in Escanaba, MI.
For more information on the Automotive programs at Bay College, contact Mike Gardner at [email protected]
Automotive Careers:
Service Manager
Automotive Technician
Service Writer
Sales Opportunities
Diesel Mechanic
Shop Owner
Automotive Instructor