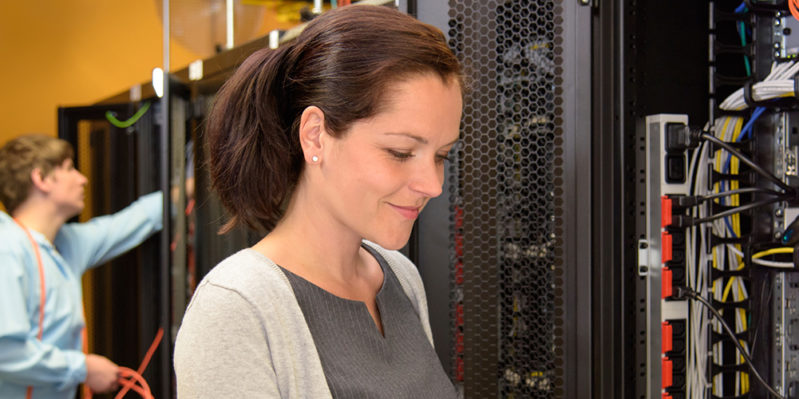 The field of Computer and Information Technology is constantly changing and evolving as modern day technologies continue to advance. The opportunities are many, and the demand continues to grow for those who are educated in computers, programming, and information systems.
In Computer & IT careers, you'll help advance computer networks, secure important data, manage vital information, develop useful applications, and design futuristic technologies. The U.S. Labor Department predicts that tech jobs will grow faster than the average for all jobs at a rate of 12% this decade, and careers in computer and information technology boast low unemployment rates.
Computer & IT Degrees and Certificates at Bay
Certificates
Computer Applications
Mechatronics
Associate in Applied Science (AAS)
Computer Information Systems (CIS)
Computer Network Systems & Security (CNSS)
Geographic Information Systems (GIS)
Mechatronics & Robotic Systems
Office Information Systems (OIS)
Associate in Arts (AA transfer)
Beyond Bay
After graduating with an Associate's degree, many choose to transfer to a 4-year university to further their education in Bachelor's programs such as Computer Science, Information Technology, Information Systems, Network Administration, Software Development, Geographic Information Systems, and more!
Top Computer Computer and  IT Careers
Computer Programmer
Computer Support Specialist
Computer Systems Analyst
Database Administrator
Geospatial Technician
GIS Administrator
Help Desk Technician
IT Project Coordinator
IT Sales/Management
Mobile App Developer
Network Administrator
Network Technician
Software Developer
Software Trainer
Systems Technician
Web Developer
Desktop Support Technician
Info. Systems Security
Computer Network Systems and Security:

A Challenging and Rewarding Degree!
By Karl Linderoth with contributions by Kathryn Capodilupo
The Computer Network Systems and Security (CNSS) degree can be summed up in three short words: Confidentiality, Integrity, and Availability.  In the Information Technology world, you are tasked to keep the company's data out of the hands of those who should not see it, protect it from corruption or from being lost due to inept handing or poor backup systems, and make it available to the company's employees when and where they need it.
Whether it be an unforeseen power outage, a computer hacker in a foreign land, or the latest virus such as "CyberLocker", jobs in Computers and Information Technology are only for those who enjoy doing something different and challenging every day of their life!  Each day, CNSS graduates working for Upper Peninsula employers stand between employers' data and the evil forces on the World Wide Web, ensuring the protection of highly important information and computer systems.
CNSS classes begin with helping students gain a basic understanding of digital communications, computer repair, and fundamentals of networking.  Soon after, students will be writing shell scripts in Linux and programming routers and switches to handle the demands of today's converged (data\voice\video) networks.  In their last two semesters in CNSS, Bay College students become experts at Microsoft server administration, wireless networking, and advanced security of workstations, servers, and the entire network. Along the way, they have the opportunity to earn several Microsoft certifications and the NSTISSI-4011 National Training Standard for Information Systems Security (INFOSEC) Professionals, which is sponsored by the NSA and FBI and the preferred certification for government IT employees.
Instructor Karl Linderoth spent many years as a network administrator and states:
"Network administration is not for the weak of heart.  You have to want to earn your pay, every day, usually the hard way through hard work, often accepting that you will not get to go home until you are satisfied that your network and data are both safe. Then, you get up tomorrow and do it all over again."
If you're Interested in a fun, challenging, and ever-changing field, a degree in Computer Network Systems and Security is a great place to start!