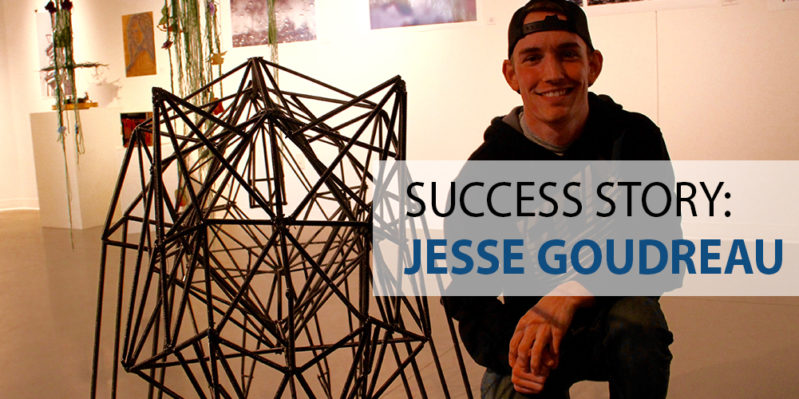 Jesse Goudreau began his journey at Bay College in fall of 2014 and graduated in spring 2016 with his Associate in Arts (AA) degree. At Bay, he developed a passion for art and was able to challenge himself to become a better artist and expand his creativity.
"You're able to get on a personal level with the instructors at Bay," says Goudreau on his experience there. "When I was struggling or trying to find a way to complete something, the instructor(s) wouldn't straight up give me an answer, but help me through it so I learned but was still challenged."
Jesse's sculpture, Surrounded by Wolves, was selected as the Bay College purchase prize in the 2016 Student Art Exhibit that took place in April. This means Bay selected his artwork to be part of its permanent collection, so his work will be known at the college for years to come.
All of Jesse's hard work at Bay definitely paid off. He was awarded a renewable $30,000 scholarship to attend the Milwaukee Institute of Art and Design, where he now studies to become an Industrial Designer. In this field, designers work for a company to redesign products in ways that will enhance and make them better. Jesse's prestigious scholarship demonstrates that you can start at Bay and continue on to great things with perseverance, dedication, and commitment.
Part of Jesse's current program focuses on automotive design, in which he has taken a strong interest. His future goals are to work for a large automotive company where he can specialize in designing vehicles.